The Adopt-a-book program aims to fund the restoration of selected books in UC San Francisco's Rare Book Collection. With your support, these unique materials will remain accessible to researchers and will be preserved for future generations.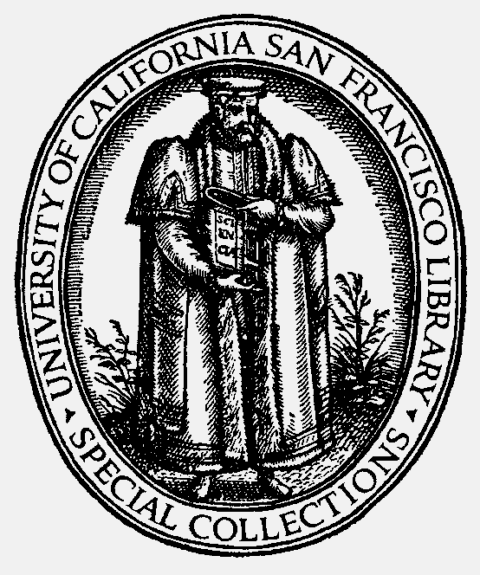 Your generous support will be acknowledged with two bookplates in your name: a printed bookplate in the restored volume and a virtual bookplate in our online catalog. You are welcome to adopt a book in honor or in memory of someone. All donors will be invited for a behind-the-scenes tour of the archives and will be able to view their adopted book.
Initial volumes for adoption
Explicatio Tabularum Anatomicarum
Bartolomeo Eustache, 1744
The Anatomy of
Humane Bodies
William Cowper, 1698
American Medical
Botany, Vol. 1
Jacob Bigelow, 1817
Osteographia, or The Anatomy of the Bones
William Cheselden, 1733
Practica et
Omnia Opera
Antonio Guainerio, 1517
De Humani Corporis Fabrica Libri Septem
Andreas Vesalius, 1555
Our Rare Book Collection contains more than 15,000 volumes with items dating from the 15th century, including fifty-five incunabula (books published before 1501), and almost 2,000 volumes of rare serials. These materials have been collected over the past 150 years through donations and gifts from faculty, alumni, and friends of the Library. Over time, many books have deteriorated so that additional use would add further damage to their condition.
With your support, our goal is to fund the restoration of 150 books that were published before 1864, the year that UCSF was founded. Your donations will support the work of conservators that will stabilize the books and prevent future damage, in addition to paper restoration, cleaning, and some cosmetic treatment.
As a busy research library we are dedicated to making these books accessible for researchers in the present and to preserving them for future generations. We sincerely appreciate your generosity and continued support.