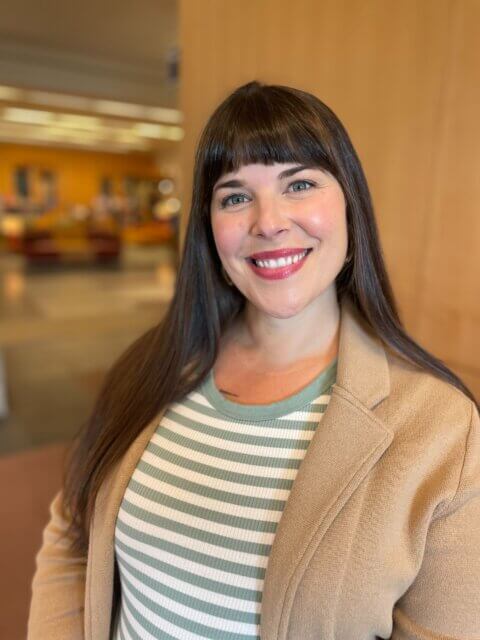 I am pleased to announce that Holly Thompson has been appointed the Director of Education and Clinical Research Services at the UCSF Library. Holly holds a bachelors in literatures in English from the University of California, San Diego and a masters in library and information science from the Palmer School of Library and Information Science, Long Island University.
Holly comes to UCSF from the University of Southern California (USC) where she's worked since 2018. She joined USC as information services librarian for the Wilson Dental School and became the acting head for both the Wilson Dental Library and the Science & Engineering Library during reorganizations in 2020 – 2021. Most recently Holly held the head of the Science & Engineering Library position until her departure to join our team.
Prior to her work at USC, Holly held the following positions:
Informationist for the National Institutes of Health Library from 2015 – 2018
Associate fellow for the National Library of Medicine from 2013 – 2014
Associate fellow for the Welch Medical Library, Johns Hopkins University from 2014 – 2015
Health sciences librarian fellow for the New York University Health Sciences Library from 2008 – 2013
Library assistant for the New York University Health Sciences Library from 2008 – 2012
In the role of director of education and clinical research services, Holly will provide leadership and coordination oversight for the Library's Education and Clinical Research Team and also serve as clinical research librarian for the UCSF Benioff Children's Hospital Oakland library. Holly's position is designed in sequence with the UCSF Library's strategic plan areas focused on coordinating our education efforts and more effectively integrating services within campus initiatives, curriculum, and more, while also meeting the clinical research support needs of the UCSF Benioff Oakland campus.
Holly is excited to join the UCSF Library and return to working with the health sciences community. She's especially looking forward to integrating library resources and expertise with the clinical, research, and educational missions across the UCSF organization. In addition to her library work, Holly is a San Diego native who spends her free time making pottery, trying new recipes, and chasing after her toddler.