We are excited to announce that the CLE Help Center documentation has been updated! Visit the Teaching and Course Administration section of the UCSF Library Help Center to find resources to support faculty and staff with their teaching and learning practice and using the CLE to create and manage courses. This section of the Library Help Center has different areas of focus: Teaching and Research, Instructional Design, H5P, and several sections related to the CLE.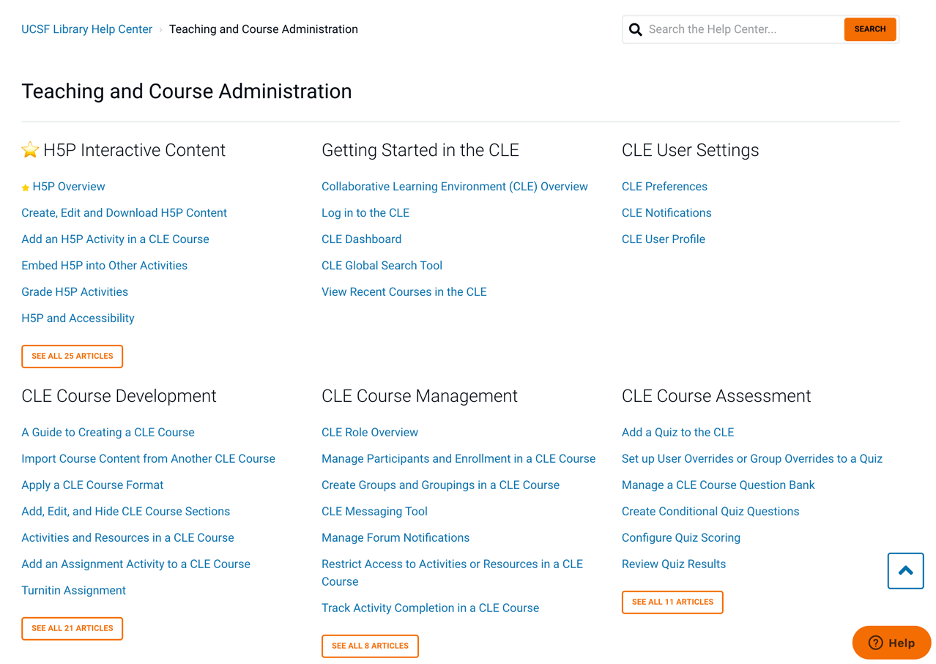 What's New?
The Learning Tech Group has revised the layout of these help center articles and developed some new ones.
H5P is an open-source content authoring tool that has recently been fully integrated into the CLE. Learn how to create H5P activities that transform course content into a more engaging learning experience.
New to using the CLE, or need a refresher? Start in this section and review some CLE basics: Collaborative Learning Environment (CLE) Overview, Log in to the CLE, and CLE Dashboard.
This section features updated and new articles that review how to set up and format a CLE course and how to various different activities and resources.
Many faculty choose to import course content from another CLE course and update the content for a new semester. The alternate option is to create a new CLE course from scratch – either way, it's important to understand the wide variety of activities and resources that are available to be added to a CLE course. 
Take a look at some of the newly developed articles as you decide which activities and resources to add to your course:
This section features articles that you can reference any time you're looking for support with managing a CLE course that has already been set up and configured.
Check out these updated articles to help you manage your course more efficiently:
The Quiz activity in the CLE is a powerful tool that you can use to create meaningful assessments, whether they are short quizzes or longer final exams. Regular assessments can help students understand how they are progressing in a course and which areas they may need to review.
Whether you've created 1 quiz or 20, these updated articles are a useful reference.
Contact us
The Learning Tech Group is always looking for feedback about the resources on the Teaching and Course administration section of the Library Help Center. Drop us a line at learningtech@ucsf.edu and let us know if there are any topics that are missing.
If you've looked through these resources and would like to learn more or get more in-depth information, reach out to us via learningtech@ucsf.edu or book a consultation with an Instructional Designer.