Many new open access agreements with publishers ranging from Elsevier to The Biochemical Society provide substantial financial support for UCSF authors to publish their research open access. The UCSF Open Access Fund has continued to help fund articles in open access journals not covered by a publisher agreement. Due to the Fund's budget reductions and the increasing prevalence of publisher open access agreements, the Library stopped accepting applications on April 8 and closed the program.
The program was founded in 2015 as a pilot project with generous financial support from the Academic Senate to assist UCSF authors who lacked funds to pay for open access publishing of articles and books. Starting in 2019, the Library assumed responsibility for the budget and was able to sustain the program and meet the increased demand during the period when there was no UC agreement with Elsevier.
While funding was always intended to support UCSF authors who were not part of research grants, there was no practical way for the Library to enforce this requirement. Aside from the budget, other factors contributing to the closure include the substantial amount of labor to run the fund and UC's increasing focus on 'transformative' open access agreements with publishers. These agreements are much more cost effective and comprehensive, and they cover an unlimited number of open access articles with the publisher. Read more about how they transform library payments.
See 'Snapshot of Articles Funded from 2017-2022' below for visualizations of articles funded by job series, faculty rank, department, journal, and publisher.
What other options are there for open access fee assistance?
UCSF corresponding authors now have a dozen open access publisher agreements to choose from where up to 100% of the cost to publish open access can be covered. Most of these agreements are UC-wide and use UC's multi-payer model, for example, agreements with Elsevier, PLOS, and several society publishers (see all publisher agreements and discounts).
Here's how the UC multi-payer model typically works:
The UC Libraries account automatically covers the first $1000 of the open access article processing charge (APC) for articles with a UC corresponding author. Some journals have an additional APC discount for UC.
Authors with research funds are asked to use those funds to pay any APC remainder above $1000.
Authors who do not have research funds can request full funding of the APC remainder from the UC Libraries account, ensuring that the lack of research funds does not present a barrier to publishing open access.
All funding transactions take place on the publisher's platform – funding requests do not need to be sent to the UCSF Library separately.
Authors are encouraged to accept the OA option, but they may opt out and publish their article under a paywalled model when publishing in a hybrid subscription/OA journal.
Check the details for each agreement linked from the open access discounts & funding page. A few publisher agreements automatically cover 100% of the APC for all corresponding authors, including ACM (Association for Computing Machinery) for UC, Cold Spring Harbor Lab Press, and The Microbiology Society for UCSF only.
Additionally, UC has arranged OA publication discounts with several other publishers. Examples include Nucleic Acids Research from OUP (50%), Wiley journals (15%), and MDPI journals (10%).
See how these agreements transform the UC Libraries' payment to the publisher and how they control costs. More publisher agreements will be announced via Library News and on OA Discounts & Funding as they are finalized. The latest announcement, about the California-wide open access agreement with ACS (American Chemical Society), was made on May 17!
What about journals where there is no UC agreement or discount?
For publishers or journals not yet covered by one of the UC open access agreements, authors without funds may be able to receive a partial or total waiver of the open access charge. Refer to the journal's instructions for requesting waivers, and provide this letter (restricted to UCSF) about the status of UCSF's Open Access Fund if needed.
All UC authors also have the right per UC's Open Access Policies to publish the final author's accepted manuscript (AAM) of their scholarly articles on eScholarship, UC's open access publishing platform. Sharing this version of your scholarly articles requires no payment.
Snapshot of articles funded from 2017 to 2022
From its inception in May 2015 to its recent closure, the UCSF Open Access Fund provided funding for over 400 articles in whole or in part. The following data is for the 345 articles funded from July 1, 2017 – April 30, 2022, broken down by job series, faculty rank, department, journal, and publisher. These 345 articles are from 291 unique authors.
You can also find a list of all articles funded by the Open Access Fund since 2015 on eScholarship, and details for all applications to the Fund from 2017-2022 (restricted to UCSF).
N.B. Prior to 2019, only faculty could apply for funding. After November 30, 2021, faculty could no longer apply.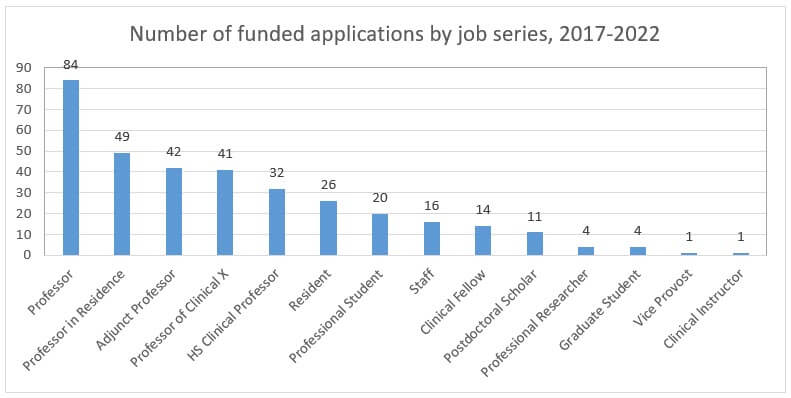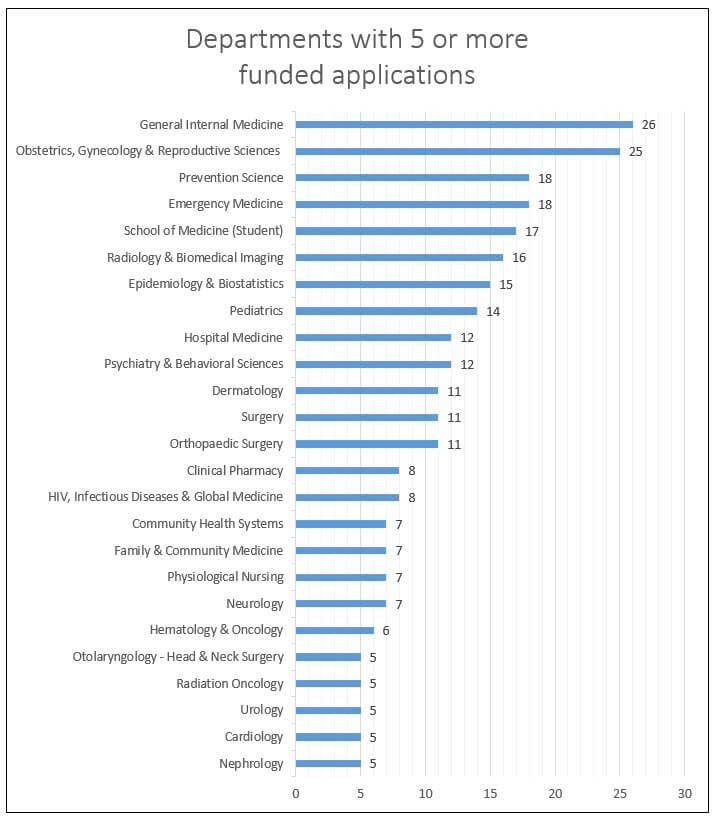 See all departments, journals, and publishers funded through applications to the Fund from 2017-2022 (restricted to UCSF).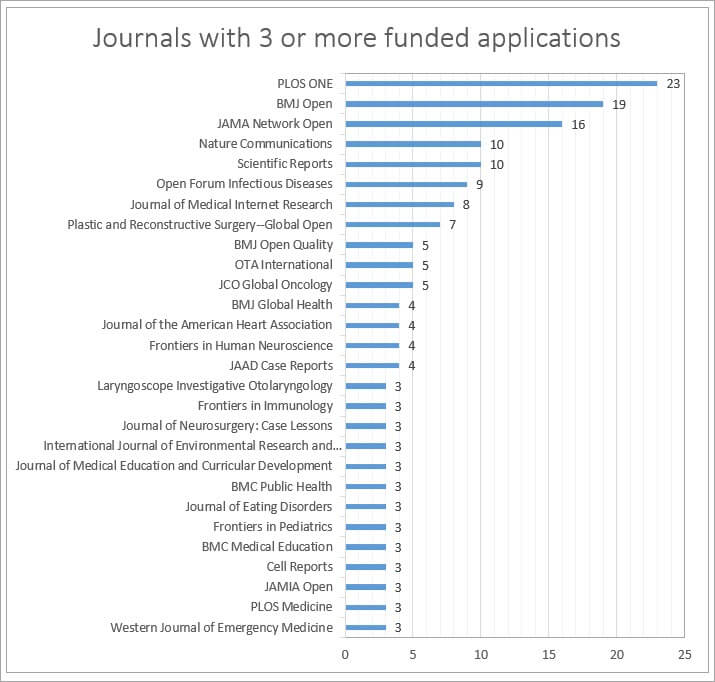 The numbers in the journals chart above and the publishers' chart below do not include articles funded through the UC open access agreements with Elsevier, JMIR, PLOS, and Springer Nature (including BMC). Once these publisher agreements were in place, the Open Access Fund no longer provided funding for journal articles covered by an agreement.