When passing the library on Parnassus Avenue over the past several months, you may have noticed the white plastic sheeting that currently encases the library. We are pleased to share that significant library renovation projects are taking place underneath the sheeting and scaffolding. During construction, the library remains open to UCSF badge holders 7:30 a.m. to 6 p.m., Monday – Friday. Additionally, the Hearst Room (a quiet student-only study space accessible via its own street entrance) is open 24 hours a day, seven days a week.
More about the projects
The renovations began in March 2022 with a waterproofing project for the library's roof, windows, terraces, doors, and walls. The waterproofing project is estimated to be completed by next summer. Once completed, the terraces will provide patrons with fabulous views extending over Golden Gate Park to the Marin Headlands. In addition, a new environmentally controlled archives and special collections vault is being built on the first floor. This vault will house UCSF's rare books and artifacts. As a friendly reminder, you can schedule an appointment via the online Archives and Special Collections Request System to access materials from the archives.
Third (Main) Floor Renovation
The most recent renovation project started this week and is bringing improvements to the third (main) floor. These improvements include:
Installation of pedestrian turnstiles at the main entrance
Construction of new public gender-inclusive restrooms and a UCSF badge-accessible restroom in the Hearst Room
New library access services desk, digital signage and other finishes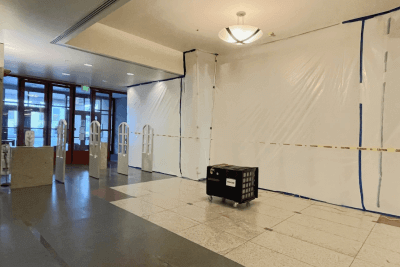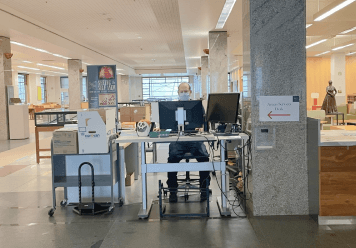 Visitors will see a temporary construction barrier where the new library access services desk is being built. The temporary access services desk is to the left of the elevators or straight ahead when you enter the building. For students using the Hearst Room, please note that the restrooms inside are unavailable during construction. Other UCSF badge-accessible restrooms are located in Millberry Union at street level and within the Clinical Sciences Building (basement level and first floor).
While renovations are underway, we continue encourage the UCSF community to utilize study spaces, reserve the music room, borrow multimedia equipment, make an appointment with the Makers Lab, connect with onsite library staff or enjoy the current library exhibit, Seeing the Self Anew: How Science and Art Intersect. With the completion of the third floor renovation, we look forward to welcoming back the general public. Members of the public will have access to the third floor, and to other floors by invitation or appointment during hours of operation. (UCSF badge holders will have access to all floors during business hours).
The library (online and in-person) provides resources to the entire UCSF and San Francisco community. The library is committed to providing patrons high-quality services and secure spaces for students to study.
Want to know more?
Read Improving the Parnassus Library: A peek behind the wrapping in the October 2022 edition of the EVCP Expresso. Check out this timeline page for updates and reopening information.