UPDATE: due to technical difficulties, UC Library Search will launch on July 28, 2021
UC Library Search replaces the UCSF Library Catalog, and features much better tools for customizing your search, filtering your results, and saving citations. You will be able to see what you have borrowed, request renewals, and manage your account all with a single login — you'll no longer need to log into your borrower account, and Melvyl, and Interlibrary Loan (ILL).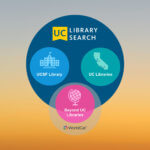 UC Library Search will vastly improve the user experience for faculty, students, and researchers who need to access collections across the University of California system. Rather than using Melvyl, which linked separate catalogs from different institutions, all of the UC Libraries will now contribute to one unified discovery tool.
Back in May we gave you tips on How to Prepare for the Launch of UC Library Search, so you might want to review those one last time. Wondering how we got here? You can review other posts from earlier this year.
For more information, see the full FAQ or contact Micquel.