We are pleased to announce a new Collaborative Learning Environment (CLE) site designed to help researchers to self-check their work with Turnitin!
What is Turnitin?
Turnitin is a plagiarism prevention service that helps verify the similarity of your work by comparing your submissions to Turnitin's database of internet information, journal articles, and publications. Turnitin generates a Similarity Report which is the result of a comparison between the text of the submission against a large range of sources in the Turnitin database. The report will provide a breakdown of all the matches ordered by the highest similarity match to the lowest.
Turnitin Self-Check Site for Researchers
In the past, we have received a number of requests to run similarity reports for researchers' manuscripts before submitting to journals and now we have a campus license for Turnitin which is housed on the CLE. We have created a site for researchers to run reports on their own to check their work. The self-enroll site is called Turnitin Self-Check and it allows you to check your papers and manuscripts for proper citation. It also allows you to check for grammatical errors.
How does it work?
The Turnitin Similarity Self-Check site is available on the CLE. To access the self-check, log into the CLE (courses.ucsf.edu), self-enroll in the site, and follow the instructions for submitting your work to Turnitin.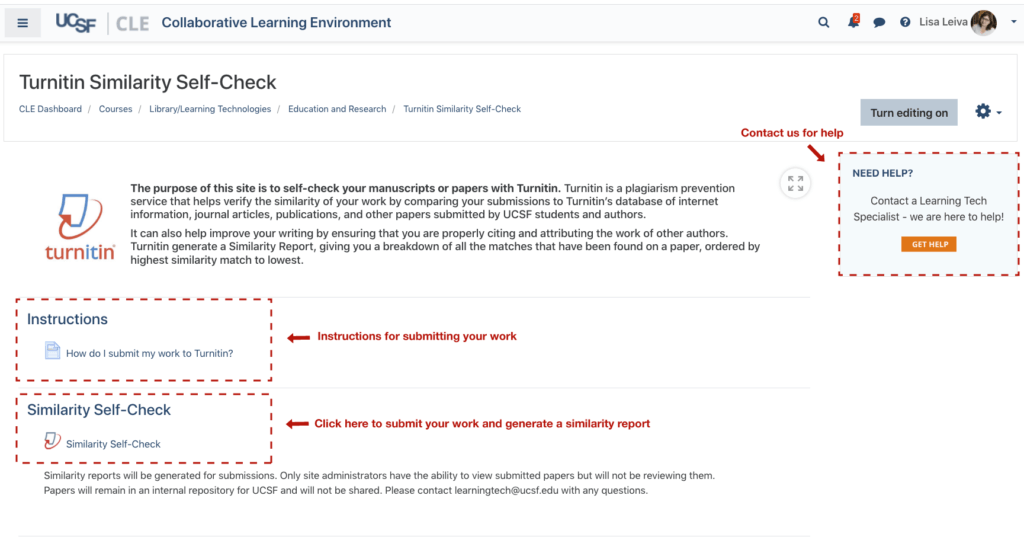 Enroll in the self-check site by simply logging in to the CLE and searching for the course or just click the button below. You'll be prompted to log in with your MyAccess login and password.
Additional Resources
Have more questions? Contact us.