As staff and faculty shift to remote learning, we at the UCSF Library are committed to helping provide resources and information that aid with the transition. In addition to workshops and consultations, one of the ways we hope to provide support is by showcasing the transition journey of fellow faculty members and highlighting key takeaways from their experience.
In this post, we are highlighting Dr. David Killilea and Dr. Ellen Fung's experience with transitioning the CHORI Summer Student Research Program amidst the pandemic. The CHORI program is a three month immersive research experience for high school and undergraduate students from diverse backgrounds. In the Zoom interview below, watch both of them reflect on their experience as part of the program's leadership team, and hear them share what went well, what resources helped the most, and what they would've done differently!
Watch the Interview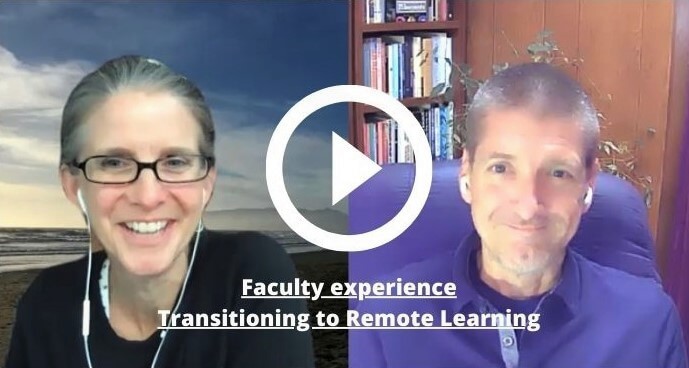 Source: https://media.ucsf.edu/media/1_pm9pbx04 (Duration: 31 minutes)
Thank you to both Dr. David Killilea and Dr. Ellen Fung for your valuable insight!
Interview takeaways
We have summarized some of the takeaways from the interview below, including tips, areas to focus on, and even some questions to consider!
Logistical tips:
Implementing the Breakout Rooms earlier and more frequently can help create a sense of community among students.
Shortening guest speaker presentations may help allow for more discussion time and reduce Zoom fatigue.
Areas to focus on:
Building a well organized and easily accessible curriculum.
Setting clear expectations for the students that are specific to the online learning environment.
Testing the various student facing elements to make sure they are functioning as intended.
Some questions to consider:
What are some benefits of the virtual learning environment over in-class learning, and how can you utilize them to enhance student learning?
How can you start strong and end strong within your remote learning course?
Support is available
I hope you enjoyed learning about Dr. Killilea and Dr. Fung's experience, and how they utilized the various resources available to them. If you need assistance with your own transition to remote learning, please feel free to reach out to us. We have instructional designers available to support you, and below you will find some links to our upcoming workshops.
Have a great fall quarter!
Register for upcoming workshops
Additional support from UCSF Library and Learning Tech Group