Instructional video content is an important part of the online and hybrid classroom environment. Narrated PowerPoint presentations, Zoom recordings, and custom modules all contribute to the success of our students. External video content can also be helpful. With over 500 hours of new content uploaded every minute, it is safe to say there are few YouTube videos with academic merit worth sharing with students in the Collaborative Learning Environment (CLE).
The Library has recently enabled a new Media@UCSF feature that allows faculty (and students) to add YouTube videos to their My Media repository and then share those videos with others in the CLE. In the past, the only way to share YouTube videos in the CLE was through a link or embed code. This new method offers added benefits, including the removal of commercials and suggested videos, tracking of analytics when the video is shared, and the addition of video quizzes and hotspots.
How to Share YouTube Videos
Log in to the CLE
Navigate to your My Media repository
Select "YouTube" from the Add New menu
Once the YouTube video is in your repository, you can share the video with colleagues in any CLE course you can access.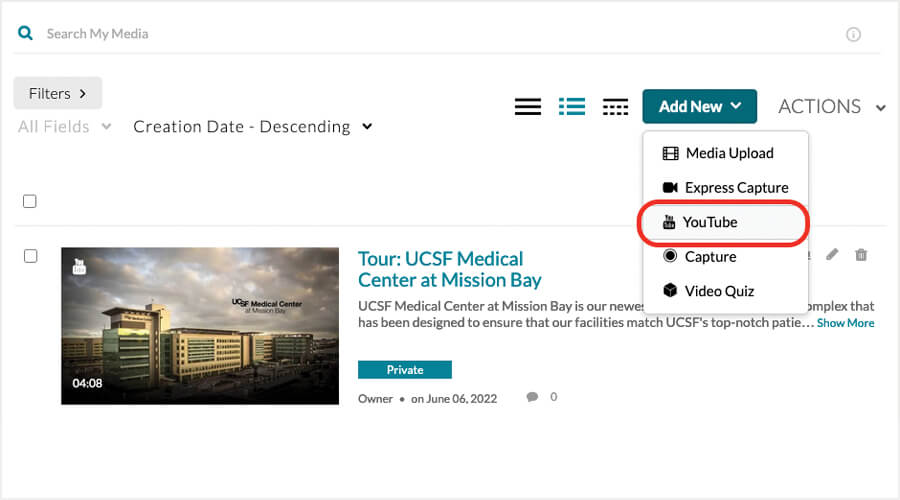 Please note: YouTube videos are linked, not downloaded into Media@UCSF. If the YouTube content owner removes the video, the link in the CLE will break. For more information about uploading and sharing videos in the CLE, refer to our collection of Media@UCSF help articles.
Please contact the Learning Tech Group if you have additional questions about this feature.