October is American Archives Month, and UCSF Archives and Special Collections is celebrating with a number of events in the coming weeks to showcase our work as custodians of Health Sciences and UCSF History.
Wednesday, October 3: #AskanArchivist Day
Join us and countless other repositories and Archival Institutions on Twitter using the hashtag #Askanarchivist
Pose your burning questions and curiosities about our collections, services and archives work in general. Follow us on Twitter @ucsf_archives
Wednesday, October 10: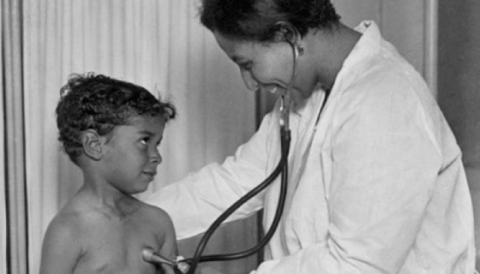 Join UCSF Archives & Special Collections as we explore the little-known history of African American women physicians' careers in medicine from the mid-nineteenth to mid-twentieth centuries. Through an extensive survey of the careers of all known African American women who practiced medicine in this period, a complicated portrait of both accomplishment and constraint emerges. This talk demonstrates that black women physicians succeeded in carrying out their demanding "missions" of attempting to address what we currently term "health disparities" in African American communities. Simultaneously, however, professionalized, scientific medicine in the twentieth century increasingly limited career opportunities available to black women physicians.
Speakers
Meg Vigil-Fowler, PhD is a historian of medicine who studies the intersecting histories of race, gender, and professionalization in the nineteenth and early twentieth centuries. She received her PhD from UCSF's Department of Anthropology, History, and Social Medicine earlier this year and is currently writing a book on the earliest African American women physicians.
Renee Navarro, MD, PharmD is the Vice Chancellor of Diversity and Outreach, charged with creating and maintaining a diverse university environment where everyone has an opportunity to excel. In her new role, Navarro will collaborate with faculty, staff and students to develop and carry out a strategic plan for diversity and inclusion at the campus – and in recruitment and retention of faculty, students, trainees and staff.
Aimee Medeiros, PhD is an Assistant Professor, History of Health Sciences at UCSF. Medeiros's work focuses on the reciprocity between diagnoses, preventive care measures, and societal expectations of the body in medicine. Medeiros's current projects include, Too Young to Die: The History of the Children's Hospital in the U.S. and Health Sciences Data Laboratory (HSDL), which will complement Big Data efforts by generating historical medical data preserved from non-digital formats.
Join UCSF Archives & Special Collections, California Historical Society, San Francisco History Center, Society of California Pioneers, and Labor Archives and Research Center at San Francisco State University for San Francisco's second Archives Crawl. The theme for the Archives Crawl is Immigration and Migration to California and we are celebrating in October, which is Archives Month!
Archives Crawl is designed to celebrate archives in the city and encourages guests to explore and engage with institutions that collect archival material. Visit institutions you may not have visited before, pose questions, learn more about what an archive is and what archivists do.
Find the UCSF Archives & Special Collections team at the SFPL Main Branch Library. 1pm – 5pm
More details visit the San Francisco Archives Crawl site.
Wednesday, October 31
UCSF Archives Halloween Open House: Oddities of the Past
Get in the Halloween spirit and join UCSF Archives and Special Collections on October 31st and view selected pieces from the historical collections in the UCSF Library 5th Floor Reading Room. You will see "medical oddities" of the past including surgical kits, bloodletting tools and more!
Also, make sure to drop by the Makers Lab Haunted House anytime from 10 am – 6 pm.
Ongoing exhibit: Open Wide: 500 Years of Dentistry