Standout Features
Search Filters
Filters and facets are used to narrow your search results to a more refined set of items. These tools appear along the left-hand side of the Search Results page.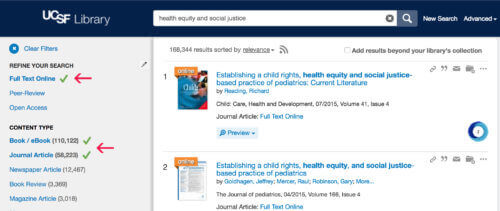 Preview Results
When reviewing your results you can now click or hover over the Preview link for an at-a-glance view of the contents for each result.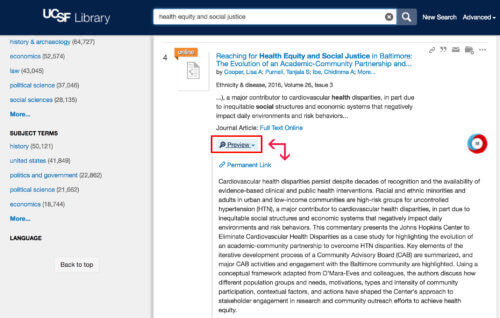 Items to Note
Persistent Filters
Like PubMed and many other search interfaces, the search filters are persistent. That is, they stay set for all your searches until you change/clear them.
For example, you can run a search for acl tear prevention and apply a few filters to narrow my results:

If you decide to change my search to acl surgery, the filters are still in place:

Clicking the New Search link clears all filters and search terms for a clean slate:

Popular Resources
While our new search tool is great for discovery to enhance your research journey, some in the UCSF community have a few core resources that they return to over and over. For those of you that know exactly the journal or database you need, we still offer those paths as well under Popular Resources. Just select any of the featured links to go right to PubMed @UCSF or Journal Titles, etc.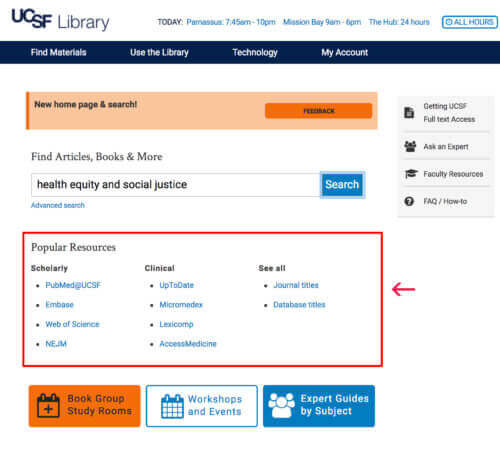 After exploring the new search tool, please share your feedback with us. We look forward to continuing to improve your Library experience online and in-person.