This month's maker is Makers Lab Designer, Scott Drapeau. Scott will receive a Master of Arts in Design from San Francisco State University this spring, and received the Distinguished Achievement Award for Graduate Programs. Scott also recently won the 2022 San Francisco State University College of Business Innovation Pitch Competition for his StomaMate project. Everyone in the Makers Lab congratulates Scott on his hard work and achievements, both academically and at UCSF!
We caught up with Scott to learn more about two projects he has been working on for his graduate program.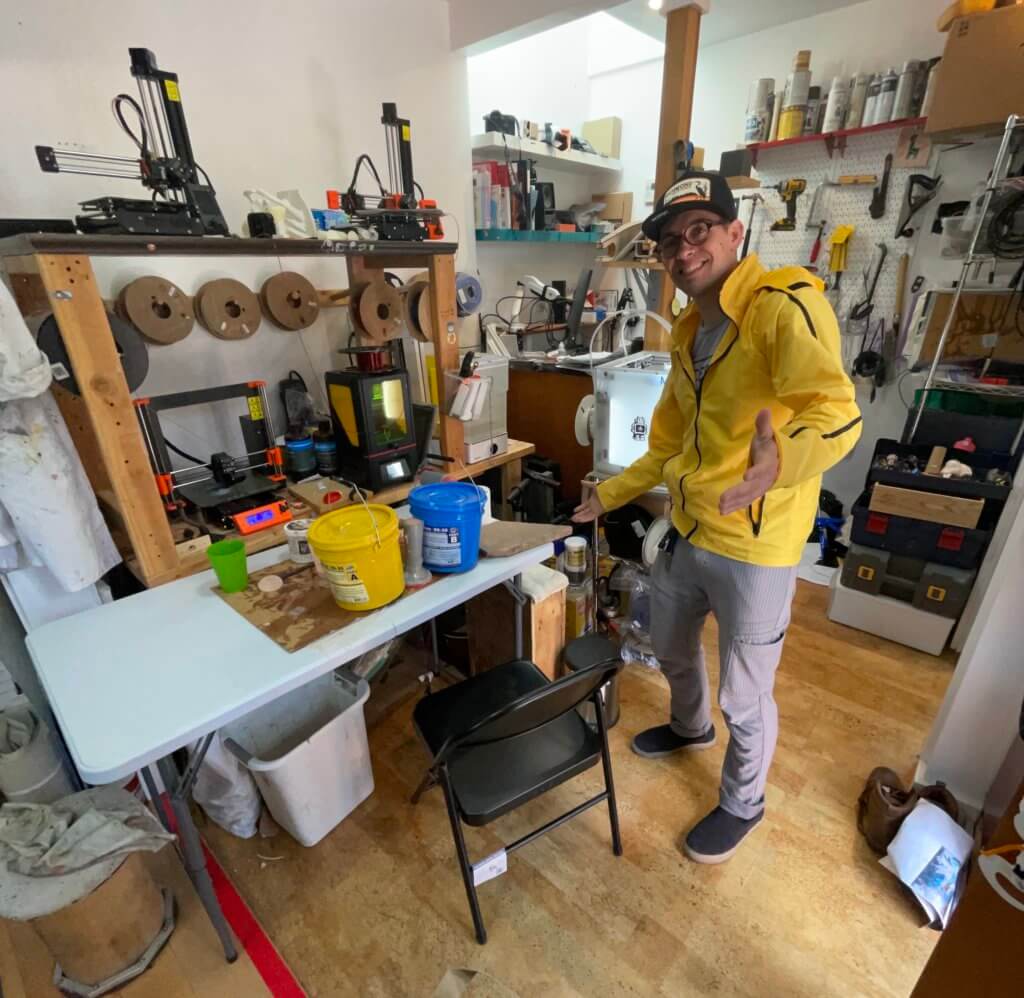 Q: What did you make?
I made two products. The first one is called Kaba, a habit-building toothbrush protector for healthy kids. The second is called StomaMate, which is a customized adapter that works with existing HME filters to give people with a breathing stoma a more comfortable experience.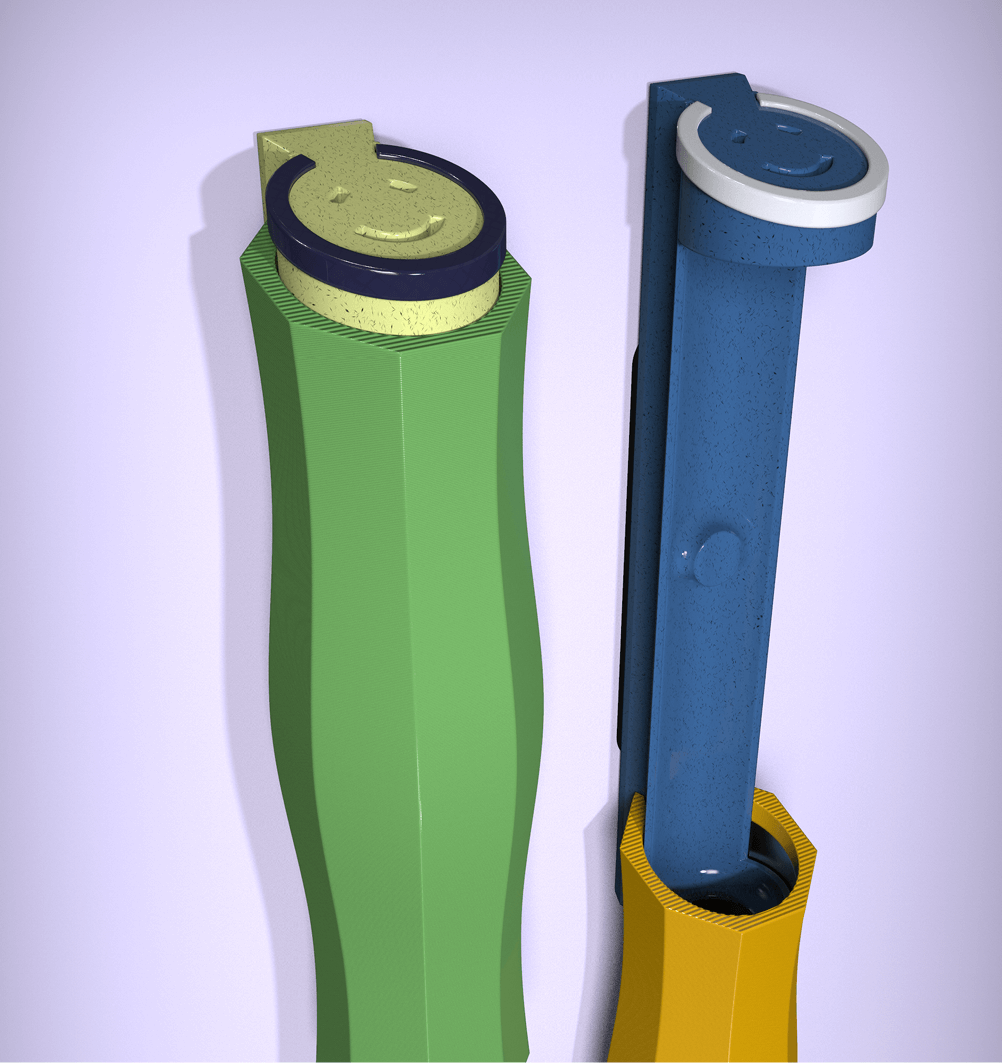 Q: Why did you want to make it?
Kaba is a result of a year-long creative research project and the final requirement for my master's in design at the San Francisco State University School of Design. I wanted to make something that would address cross-contamination and virus spreading via personal oral hygiene products in the bathroom, while teaching children good habits of putting their toothbrushes away. I also aimed to provide a solution for space-saving and keeping the bathroom tidy. A handful of my projects in the past have been related to the bathroom, as this is a space that I feel needs updated design solutions. Kaba is a close translation of the Romanized word for "cover" in Japanese. A big inspiration for much of my design work comes from Japan, including Kaba which takes its form from a Japanese pepper/spice container called a yakumi. This is my way of giving a nod and thanks to Japanese design.
The idea of StomaMate came from seeing my family member using spray paint and sanding unknown materials and chemicals. My family member had a full laryngectomy, and thus uses a stoma for breathing, but they communicated that they find the adapters for stoma filtration to be uncomfortable, so they go without filtering the air that goes into their body. From my research I found a list of issues that could arise from unfiltered air and found that COVID-19 makes things worse. I felt it was my duty to propose my idea to SFSU's IncuGator (incubator) independent-study program headed by Sybil Yang PhD to get the support needed to move forward with development.
Q: What was your process?
For both projects I started with research, including literature review, market analysis, direct competitor analysis, expert interviews, and user interviews. I then created a persona to understand the end-user better, which helped me establish a problem statement.
Then I began generating ideas, aka ideation, with word lists and sketches, followed by low-fidelity prototypes to help me understand the mechanics, shape, and feel of the product. I shared my low-fidelity prototypes with my users to solicit feedback and make sure I'm going in the right direction. Mood boards were created to help me with making design choices as I moved into high-fidelity prototypes.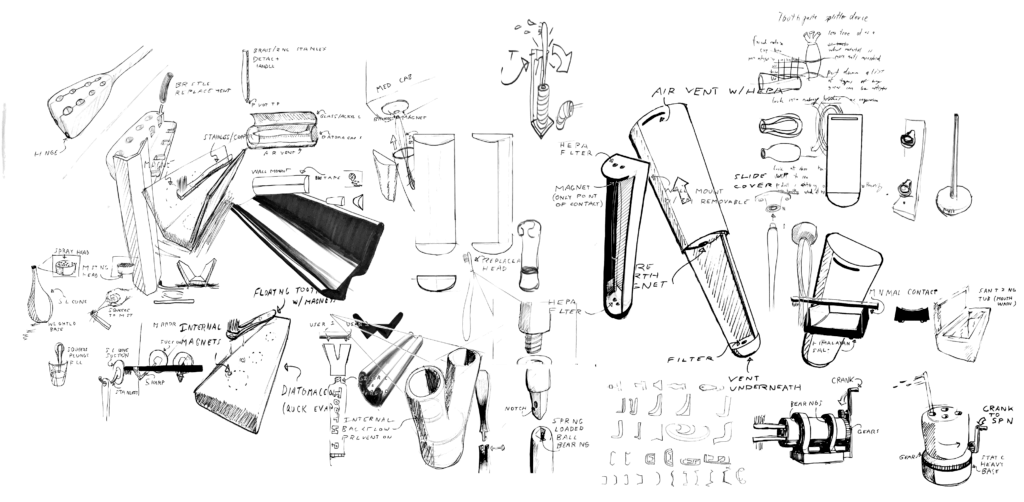 I created working prototypes which were given to the users for testing. Follow-up feedback sessions were conducted to learn what worked and what needed improvement. I then went back to ideation and prototyping to make changes.
Q: What was the hardest part of the process?
Because Kaba is made for children my proposal had to go through a full review of the IRB protocol, which was a finite process of back-and-forth dotting of the i's and crossing of the t's. Shout out to Jessica Mankus at SFSU for walking me through this on multiple occasions.
Q: What was your favorite part of the process?
For Kaba it was knowing my end-users were enjoying the product and didn't want to return it back to me. For StomaMate it was my family member appreciating my hard work in such a small niche market that is not getting enough attention from designers.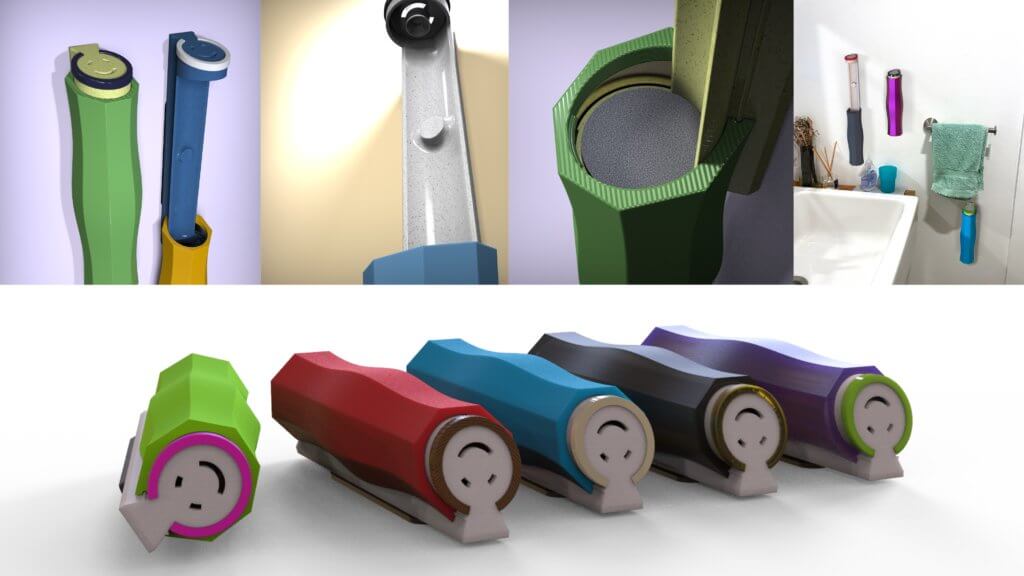 Q: How can you apply what you have learned to your work in the Makers Lab?
Both of my products relate to the field of health sciences in some way. The knowledge I picked up in my research as well as manufacturing techniques that I discovered can be applied to current and future design projects in the Makers Lab. Not to mention the contacts I've made over the past year have become valuable resources that I can call on for design projects moving forward.
Q: What do you want to make next?
I've already designed a sink that addresses mold prevention, and Kaba for protecting and storing toothbrushes, so next I would like to create a new solution for a bathtub as a continuation for designing things for the bathroom. In the future as I redo my own home bathroom, I will be casting a concrete bathtub that will have an atypical size compared with current market offerings. This DIY tub will address installation in a compact space, but more importantly to allow the user to enjoy a proper soak submerged up to their neck.