This week's maker is Connie Chen, assistant specialist in the UCSF Department of Ophthalmology and lab manager in the Dunn Lab. Let's take a look at Connie's project.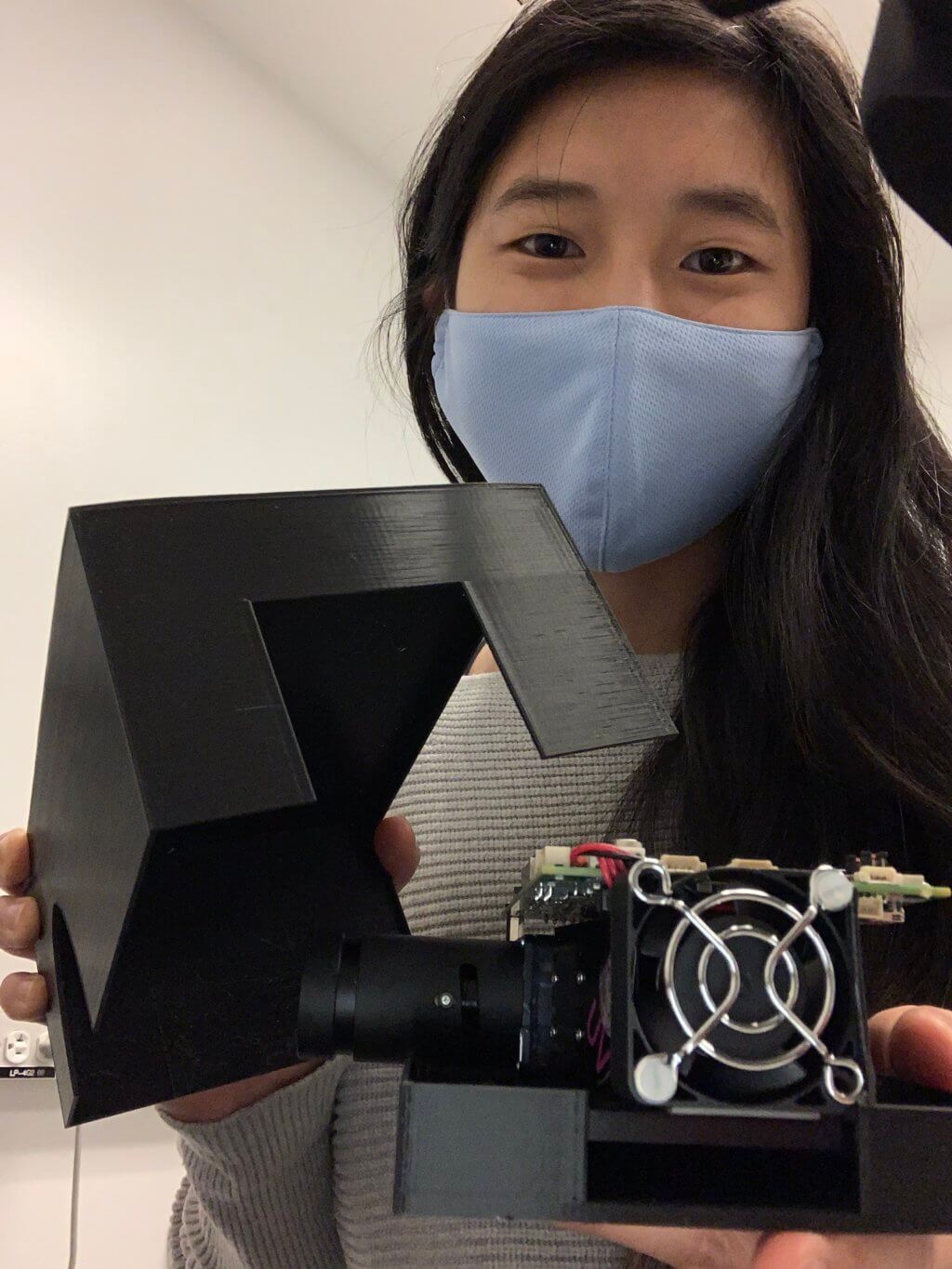 Q: What did you make?
A base with a cover to secure our digital light projector to a microscope's optical path and to prevent any stray light.
Q: Why did you want to make it?
We are using this digital light projector to present patterns of light to the retina. To ensure the retina is only seeing the patterned image and not any stray light from the projector, we want to cover it with this printed encasement. The encasement also protects the exposed electronics of the device. We needed a custom part because there is no commercially available solution.
Q: What was your process?
For the projector base and cover, we measured the projector's dimensions and noted where holes should be made for the lens and fan. Since there were going to be cables running through the back, we made the back hollow. Once we had the dimensions, I used Tinkercad to create what we wanted and then sent the .STL files over to the Maker Lab for 3D printing.
Q: What was the hardest part of the process?
The hardest part for me was learning how to use Tinkercad for the first time and getting use to the nuances of the program. Once I learned the basics of creating shapes and making holes in the design with Dylan, it was more manageable and I was able to try new things.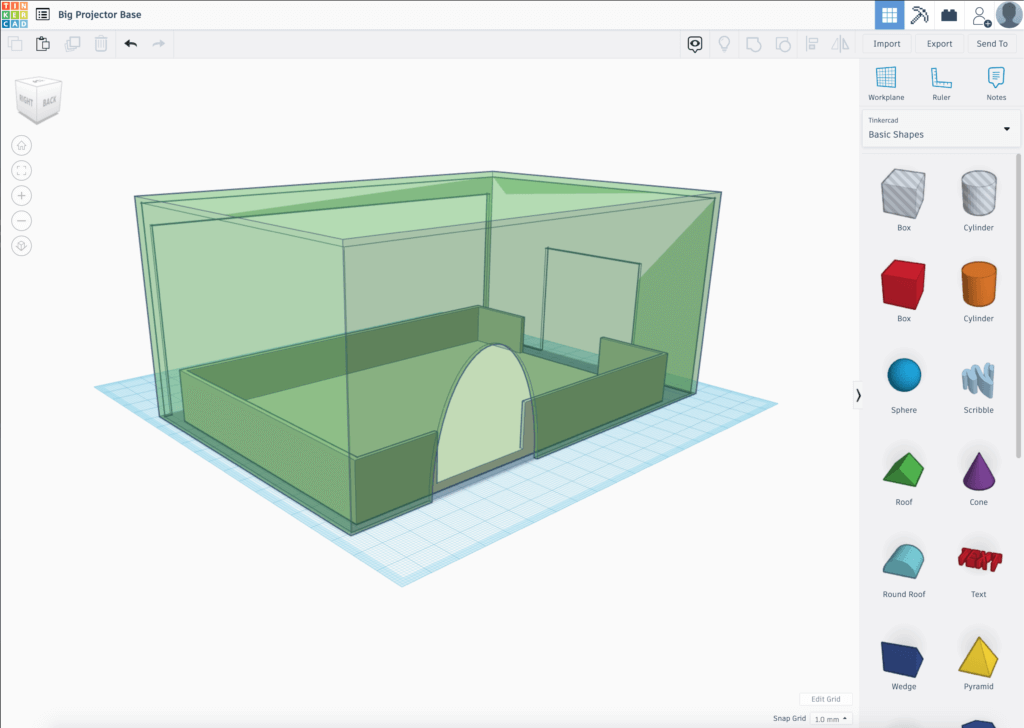 Q: What was your favorite part of the process?
My favorite part is using Tinkercad and designing the print – it's amazing to see how something that started as a cube on the computer screen is now in our hands and we can put it to use immediately.
Q: Why did you make it instead of buying it?
We made the parts because of customization. We did not have any commercial options for such a niche use of the projector. Tinkercad made it easy to create holes for the fan of the projector and the lens. Plus, we have had great successes with the Makers Lab – our previous lab manager made various 3D prints that have helped the lab on many fronts.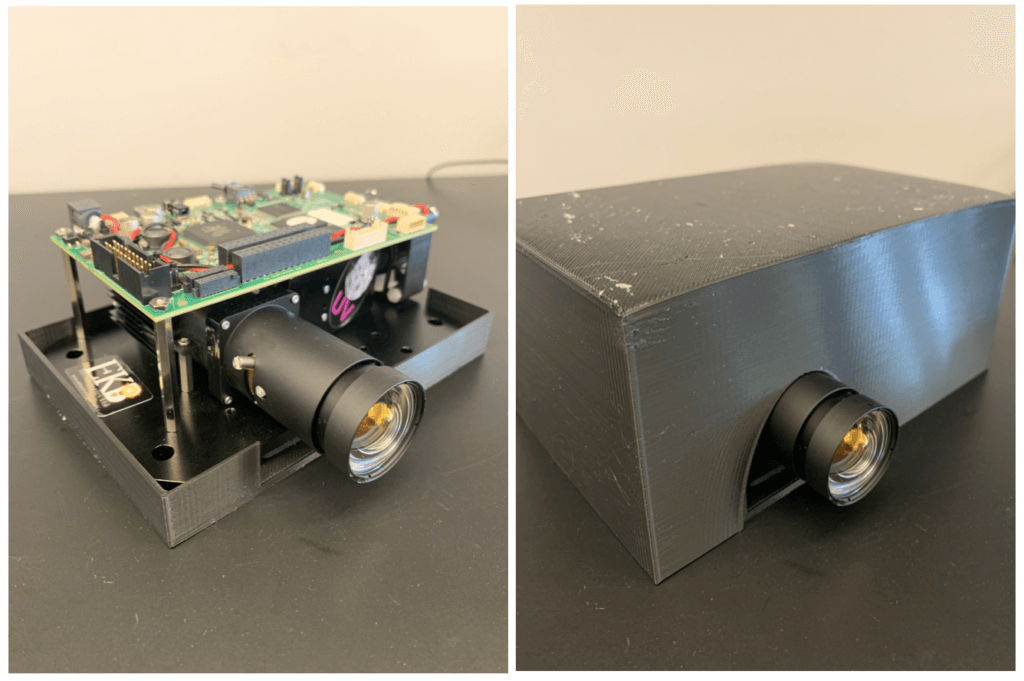 Q: How did this help make you a better researcher?
I think learning to 3D print and design helps drive creativity and initiative. Rather than wait for a product to be available in stores, we can make the product ourselves and easily customize it to our needs. Through an iterative process we could design the part exactly for our needs. This helps make the research tools as precise as possible.
Q: What do you want to make next?
We have a smaller projector that needs a base and cover so that will be our next project.