This week's maker is Bronte Mak, a clinical lab scientist at UCSF Clinical Labs in the Department of Chemistry.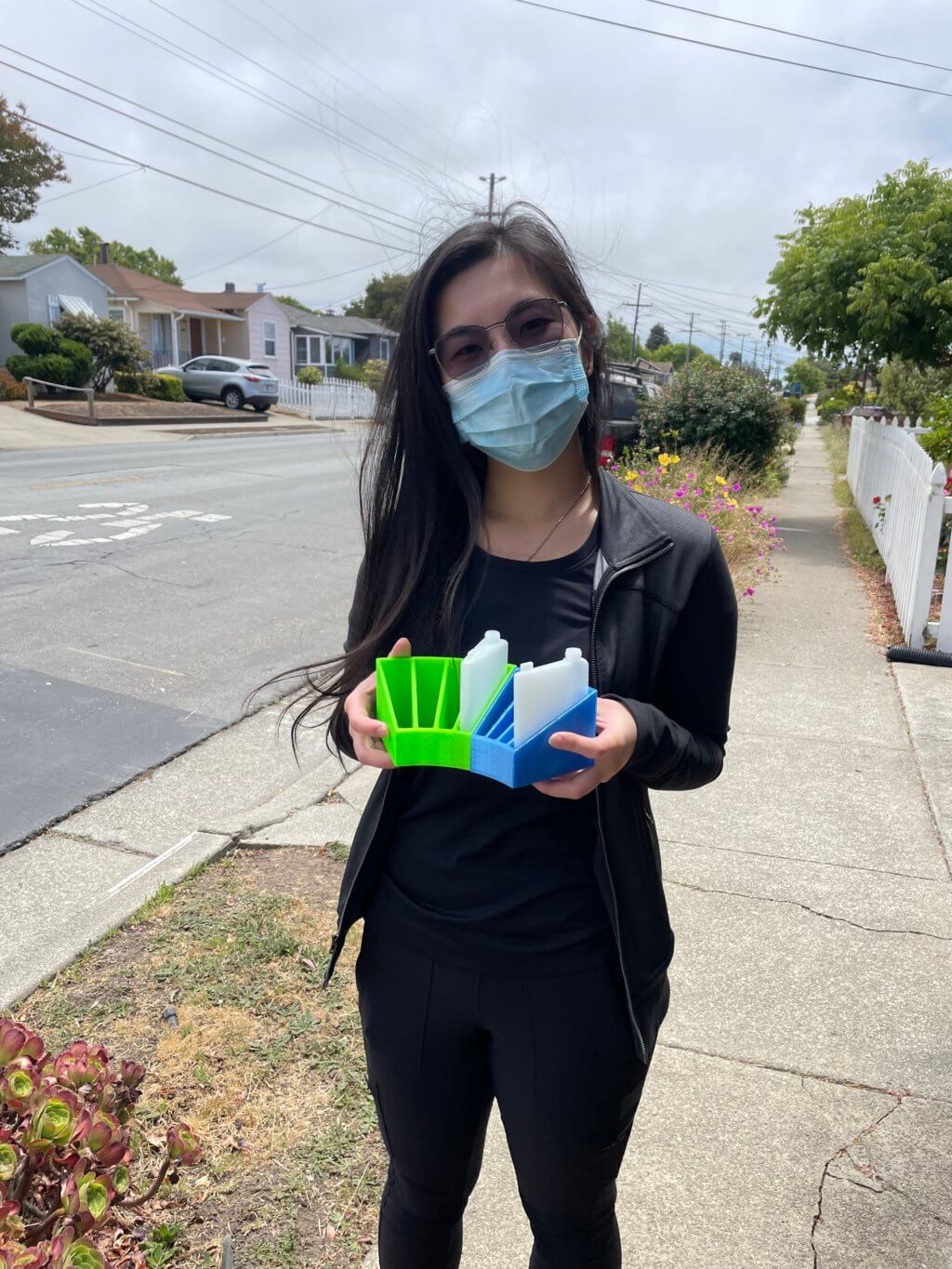 Q: What did you make and why did you make it?
I made a cartridge holder to hold reagent cartridges used in our lab's Abbott Architect c8000 Chemistry Analyzer. Our supervisor expressed concern that the reagent cartridges were unable to stand on their own and could become a safety hazard. This is especially important because we often make reagents using them. We were also told that the manufacturer did not sell containers for them. I remembered seeing an email about the Makers Lab and their resources and suggested that we could try making our own containers instead. I had never done or seen 3D printing in person before, so I was really excited about trying it out.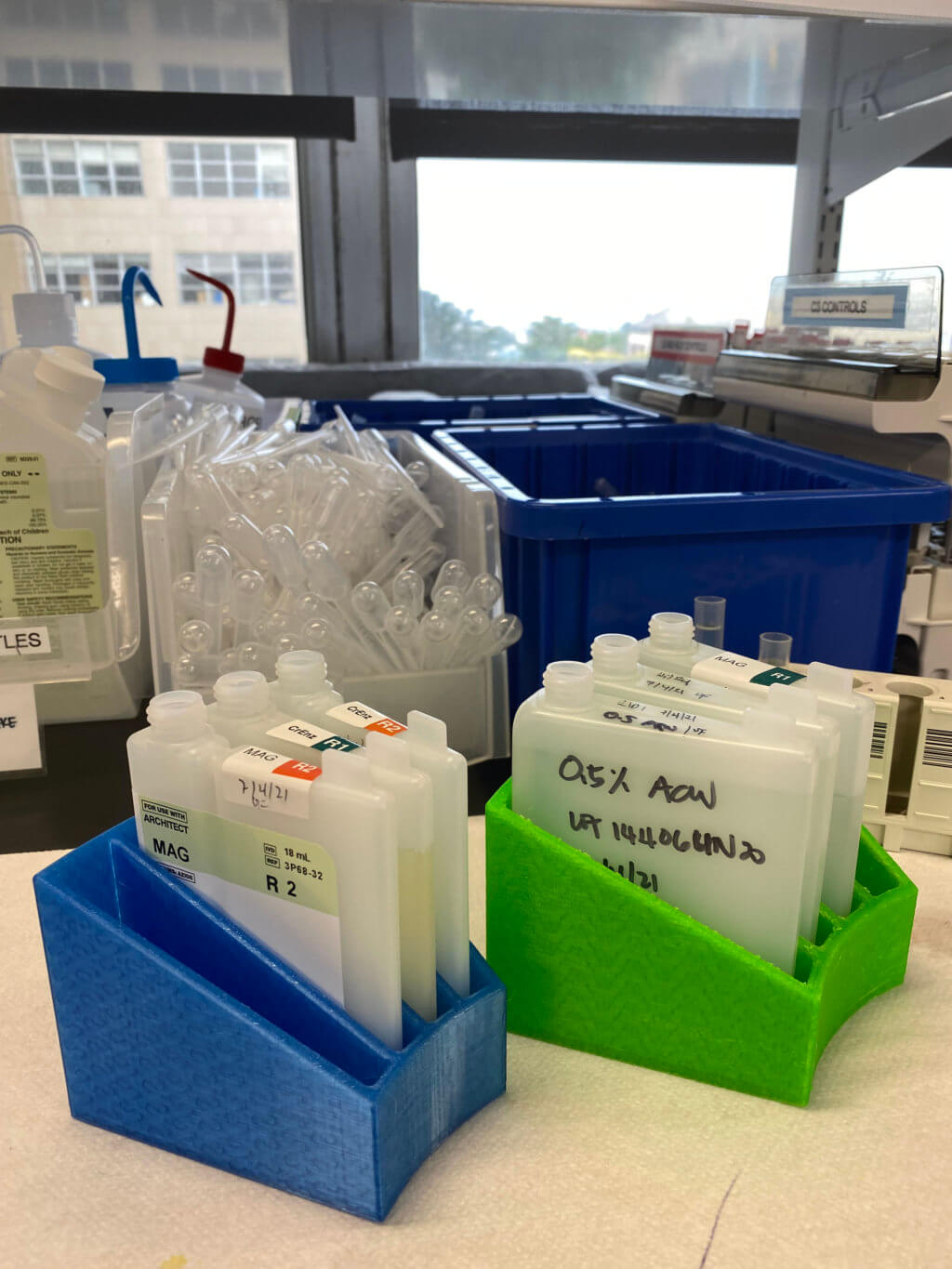 Q: What was your process?
The first part of my process was letting the staff at the Makers Lab know what I was trying to make and asking them what resources I could use to learn and get started. I was recommended to use Tinkercad to start out. Throughout the process, I continued to ask the staff for guidance, such as what plastics they would recommend, the infill density, etc, and they were extremely helpful. I also received feedback from my supervisor and the lab and modified my design to that. After a few months of use, our first few models started to disintegrate over time. This was when I asked Scott for advice and he was amazing at tailoring the design, enhancing it, and printing it to our needs.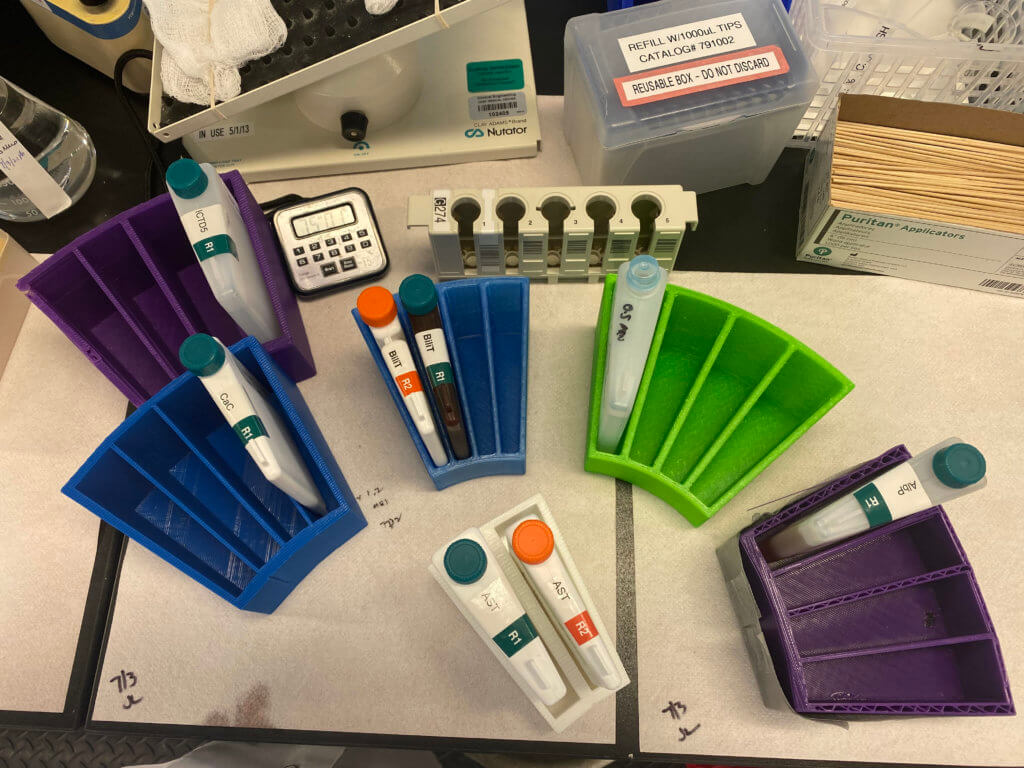 Q: What was the hardest part of the process?
The most difficult part was waiting to see how things would turn out!
Q: What was your favorite part of the process?
Learning about how to select materials, the different printing parameters, and ways to refine the model was definitely my favorite part. The Makers Lab and Scott were wonderful with coming up with suggestions and questions about the design that I hadn't thought about, but really enhanced the comfort and usability of the model.
I also enjoyed learning about what other labs at UCSF have used these resources for. The projects that I had the chance to chat with other UCSF staff and students about while they were printing for their own departments or personal use and others that I've read about were super cool!
Q: How did this help make you be better at your job?
This project required me to do some self-learning, attempt to build something using technology that I had no prior experience in, and collaborate with others that I might not have met in my current job. Additionally, seeing how other departments at UCSF are utilizing this resource really emphasized for me that we could create something according to our own needs and that unavailability does not mean impossibility. I think that these are important skill sets and ideas to keep in mind for any job.
Q: What do you want to make next?
I'm not sure yet, but I can't wait for the Makers Lab to re-open! 😀