We are excited to welcome the 2022 UCSF Library Artist in Residence, Jacoub Reyes.
The UCSF Library Artist in Residence program was launched in 2020 and continues to thrive. This program serves as an intersection of arts and sciences and brings humanities dimension to our health sciences campus. It also enables the library to open up its Special Collections holdings that are often perceived as exclusive and inaccessible. The Makers Lab collaboration connects artists with state-of-the-art tools as well as provides expert help for fulfilling their creative ideas. With this program we aim to address questions about the value and role of humanities for science and how art and science interact and impact each other.
We are excited to introduce the 2022 artist – Jacoub Reyes and welcome Jacoub to UCSF. The competition was strong again this year with artists submitting their proposals representing diverse media formats from across the country. The 2022 UCSF Library Artist in Residence, Jacoub Reyes commenced his year-long project titled Sugar Works on July 1, 2022.
About the residency
For the 2022 Artist in Residence program, I will examine UCSF's Tobacco Control Archives, IDL's Sugar Collection, and Japanese Woodblock Print Collection to create a narrative surrounding the crops and their relation to colonialism. This health-centered project will expose the inequities found in Puerto Rico and draw similarities with Japan and the rest of the Caribbean by shedding light on past issues and how they are prevalent today and continue to affect the future. With this, I aim to bring awareness to colonialism's role in global health, well-being, and economy.

Jacoub Reyes
Jacoub will share updates on his project and upcoming workshops on the UCSF Library Artist in Residence webpage.
About the artist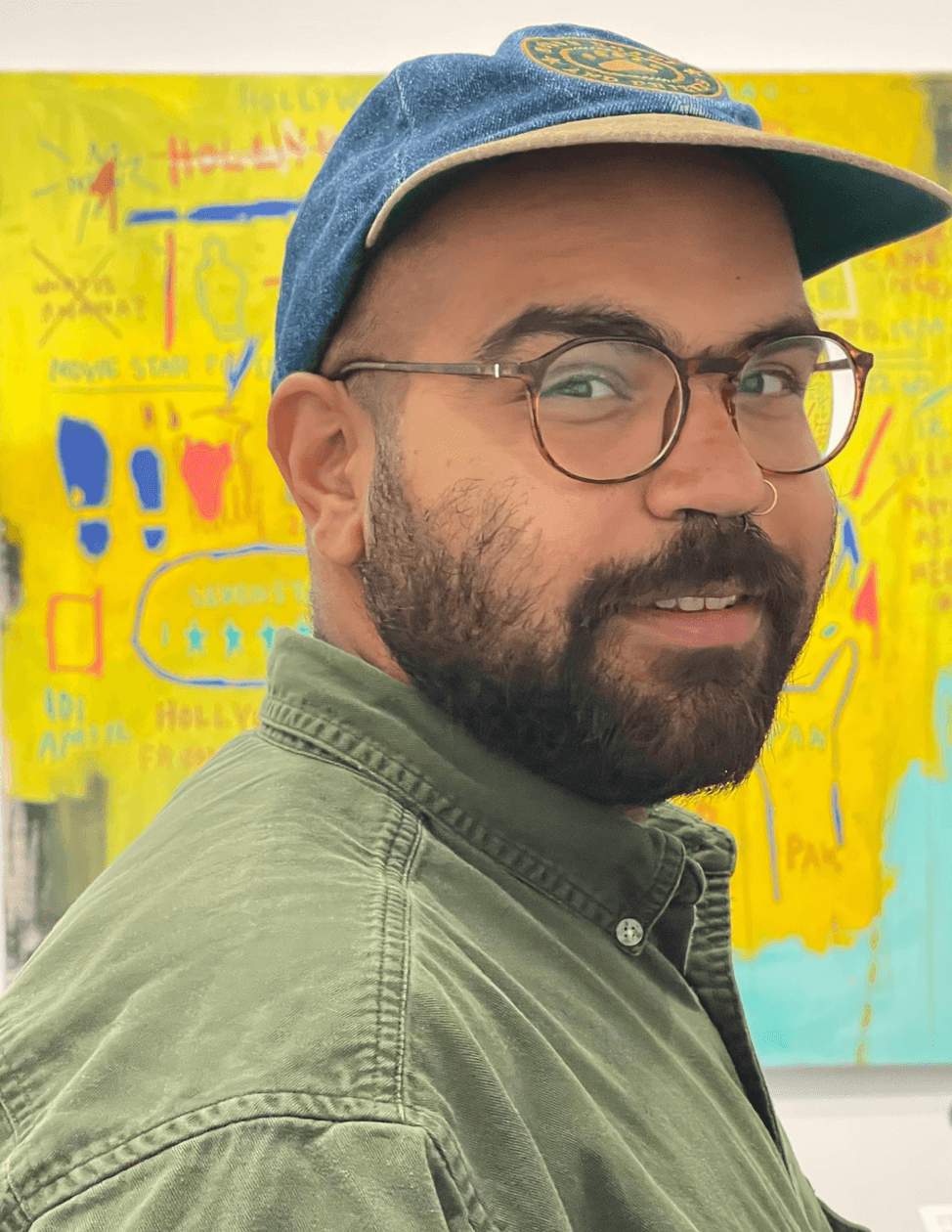 Jacoub Reyes is a printmaker and installation artist in the Greater Miami area. As a mixed person of Caribbean and Southeast Asian descent living a diasporic experience, he explores religion, medicine, cultural practices, ecology, history, and other themes involving his heritages. This pursuit has ignited his investment in community outreach, decolonization of education, and raising awareness of the inequities found in his community, the Caribbean, and the United States.
Jacoub Reyes hosts independent workshops and collaborative projects in the Greater Miami community. He is currently the Artistic Director for the City of Boynton Beach's Quantum Eco-Park and Artist in Residence at American Landmark. Reyes is a recipient of the Foundation for Contemporary Arts Emergency Grant, The Puffin Foundation, The Pew Collective Grant, Allies in Arts Grant, Artist Relief Grant, Immerse Artist Grant, Awesome Grant, Southern Graphics International Grant, and J.R. Hopes Scholarship. His work is held in several public and private collections, including MassArt, Morgan Conservatory, UCF, Frontera Galeria Urbana, The City of Orlando's Public Art Collection, The Miami-Dade Public Library System's Permanent Art Collection, MDPLS Zine Library, The Vasari Project, and Hoopsnake Press. He has exhibited regionally, nationally, and internationally. Notable exhibitions include the International Print Center New York, Umbra: New Prints for a Dark Age juried by Alison Saar, La Sagrada Botanica Installation hosted by Creative City Project, Tres Gatos Press Residency and installation in Guadalajara, Mexico, Southern Graphics Conference International's El Encuentro beach installation in San Juan, Puerto Rico, PaperWest juried by Willie Cole, and 3rd PaperWest juried by Sam Vernon. Artist residencies and fellowships include Denbo Fellowship at Pyramid Atlantic, Alfred University's BIPOC Artist Residency, University of California, San Francisco Library Artist in Residence, Ma's House BIPOC Residency, Shinnecock Nation, Southampton, NY, among others. Reyes has worked in museums, fine art print shops, and universities as a visiting artist and lecturer. He holds a BFA in Drawing and Printmaking from the University of Central Florida.
Learn more about Jacoub's work: www.jacoubreyes.com • @jacoubreyes on Instagram • Jacoub Reyes Art on Facebook • LinkedIn
Q/A with Jacoub
Why did you apply for the UCSF artist in residence program?
I have been exhuming the roots of my cultural heritage for over ten years. This journey has led me into sugar mill ruins, ancient caves, and the tops of sacred mountain peaks. These remnants of a not-too-distant past have helped fuel my curiosity and need to peel back the layers of history to reveal the stories hidden in plain view.
A significant aspect of my practice revolves around collaborating with various marginalized communities worldwide to expand on projects surrounding the theme of colonialism. This multi-disciplinary track has opened conversations surrounding physical, emotional, and mental health, the difference between art and artifact, economics, politics, and sociology, among other things.
I decided to apply to become a UCSF artist in residence because my artwork is informed through a research-based methodology. UCSF's extensive special collections, archives, and Japanese woodblock collection are where I'll be sourcing most of my information. Through access to these resources, I can make connections between Japanese and Caribbean history which is not heavily researched. This will hopefully result in the expansion of how we view colonial powers, my personal view of my cultural heritage, and my practice.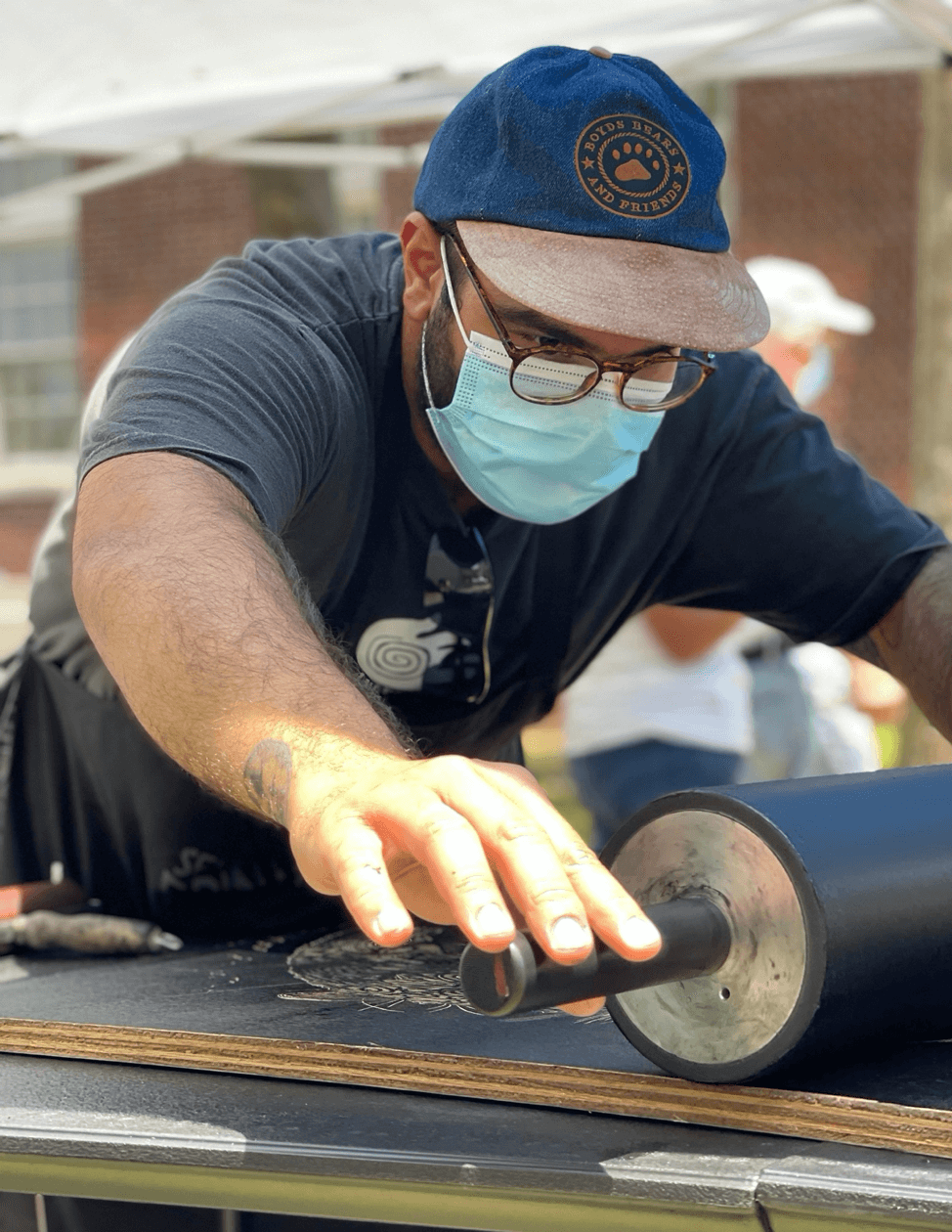 What are you most excited to work on?
I am looking forward to collaborating with Dylan Romero and The Makers Lab team to explore technologies not readily available to me. I am also excited to delve into all the library's resources with Polina Ilieva to uncover various materials and library resources. UCSF's vast library collection offers unparalleled research and insight into this project and couldn't be facilitated elsewhere. The medical documents available are specific to the research I am conducting. Access to them will expand on health disparities that began long ago and are still relevant today.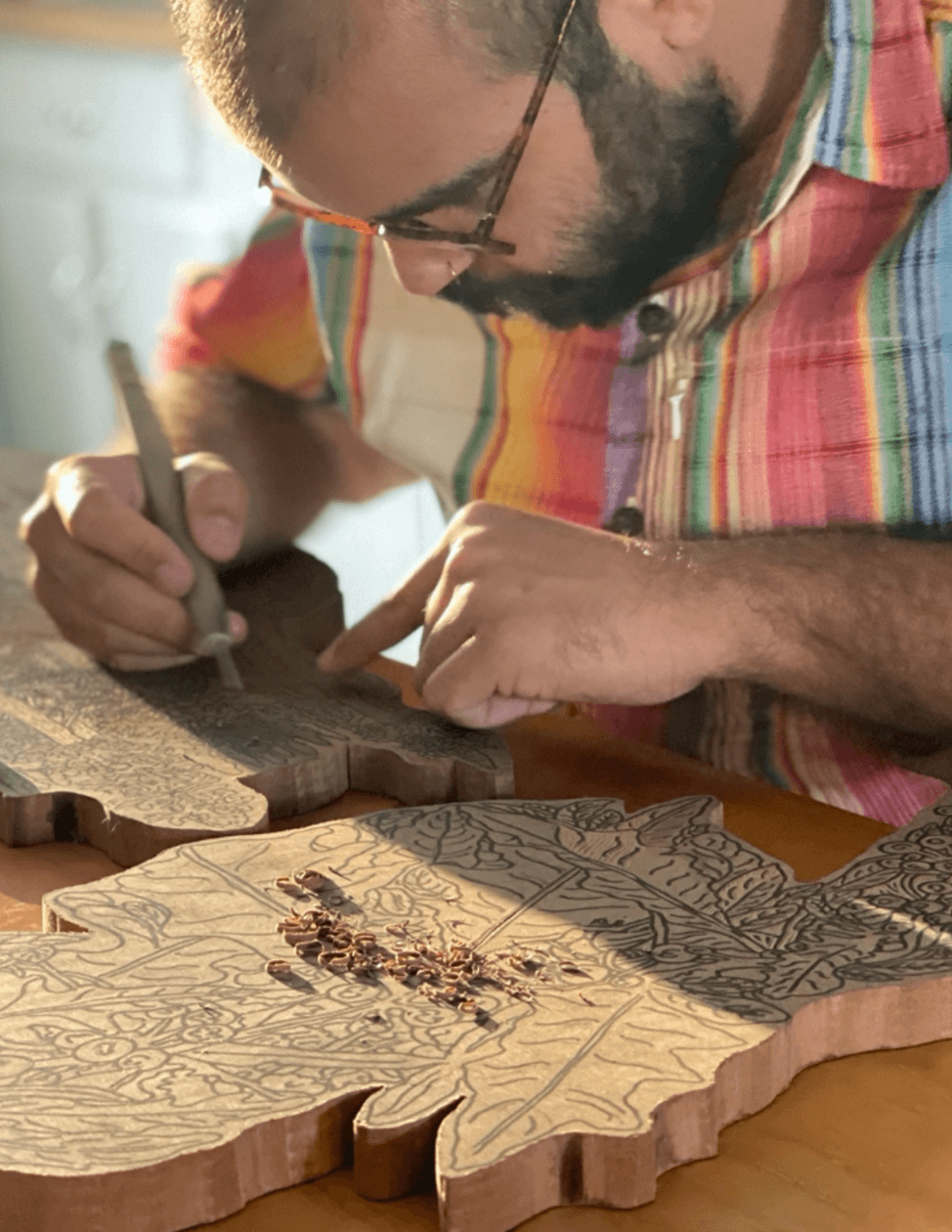 What challenges do you foresee?
There will be certain learning curves as far as technology goes, but I believe my persistence and the UCSF staff's help will quickly overcome these challenges. Another challenge is sifting and categorizing the information effectively and translating that into singular images. The source materials are so layered and connected in a significant, interdisciplinary way that they allow for multiple interpretations and narratives.
What is the role of arts in the health sciences?
Art can create complex connections between seemingly different ideas. It can also help visualize ideas into accessible and consumable dissemination of information. Much like this project, I will organize data into more straightforward sequences and use research to tell a story visually. By using research-based processes, I can connect with practitioners and enthusiasts alike. Through this, I aim to raise awareness surrounding health sciences in the Caribbean and its history within a global context.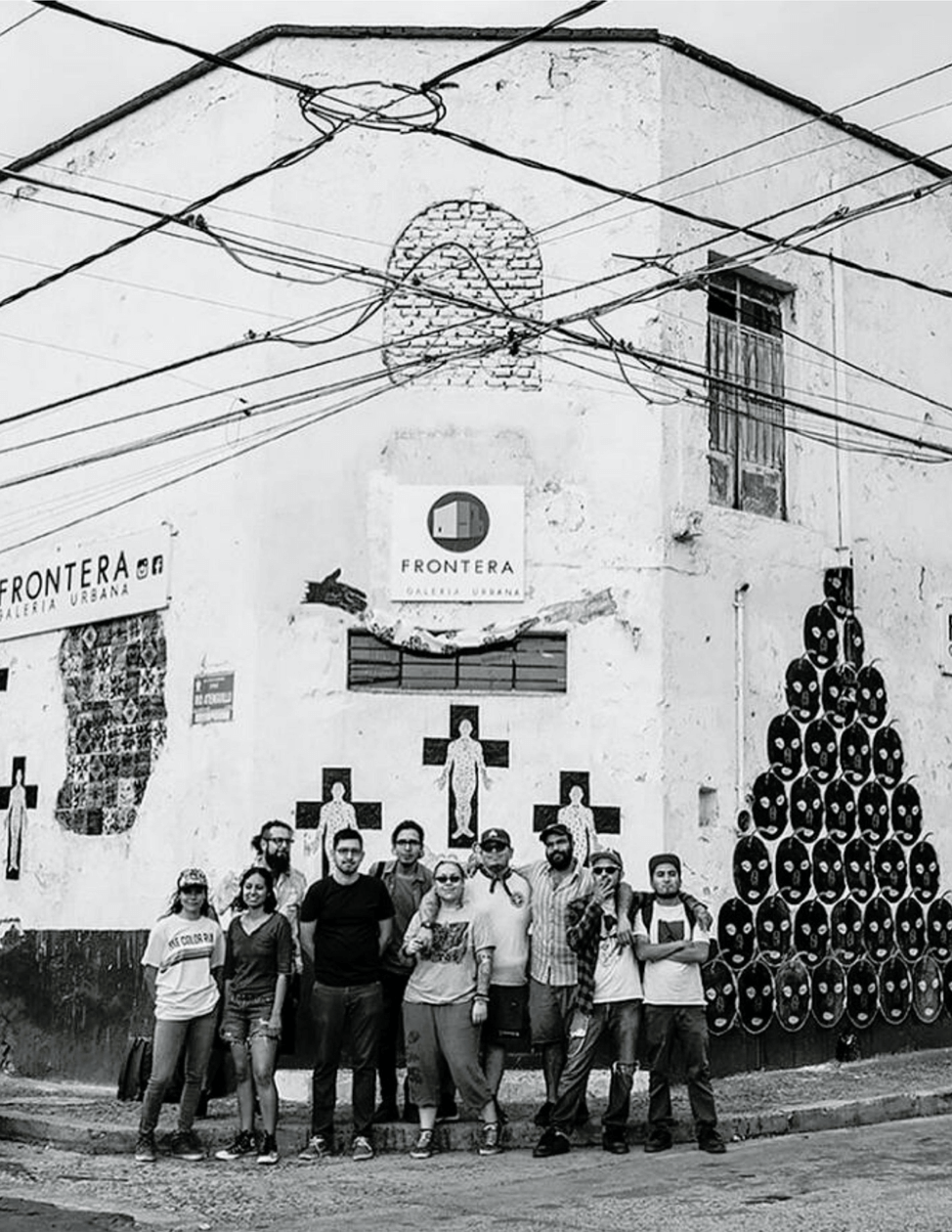 Thank you to the people behind the program
We were impressed by the quality and depth of this year's proposals and would like to strongly encourage artists to apply next year. We are grateful to the following UCSF colleagues for their commitment of time and effort when serving on the 2022 UCSF Artist in Residence review committee:
Dr. Louise Aronson, Professor, UCSF School of Medicine
Kirk Hudson, UCSF Library Tech Commons and Facilities Manager
Susie Kuo, UCSF EVCP Executive Analyst
Joey Lew, MD Candidate, UCSF School of Medicine
Dr. Michelle-Linh Nguyen, Fellow, UCSF School of Medicine
Dylan Romero, UCSF Library Makers Lab Manager