The Makers Lab celebrated its 5th anniversary on Sunday, April 4th, 2021. It marks five years since we have opened our doors to the UCSF community to create, innovate, and tinker within the UCSF Library.
Earlier this week, we launched the #ucsfmakerslabturns5 social media campaign on Twitter and Instagram. The campaign included a testimonial each day from UCSF makers through the years.
Check them out below:
The UCSF Makers Lab is life-changing. It has already opened new possibilities for my career aspirations in the health sciences. Last year, I had no idea how to use a 3D printer. Today, I'm designing and building my own custom research equipment and personal art projects.

David Wu
MD-PhD Candidate, UCSF Medical Scientist Training Program
Biomedical Science Program, UCSF School of Medicine
Together, we created a 3D printing elective for health science students to extract bony anatomy from a patient's DICOM file (all with free open-source software). We have also developed multiple low-cost simulation models for residents and fellows to practice procedures. These examples illustrate the two most important functions of makerspaces from my experience: collaboration and networking.

Derek Harmon, PhD, MS
Associate Professor and Anatomy Center Director
UCSF Department of Anatomy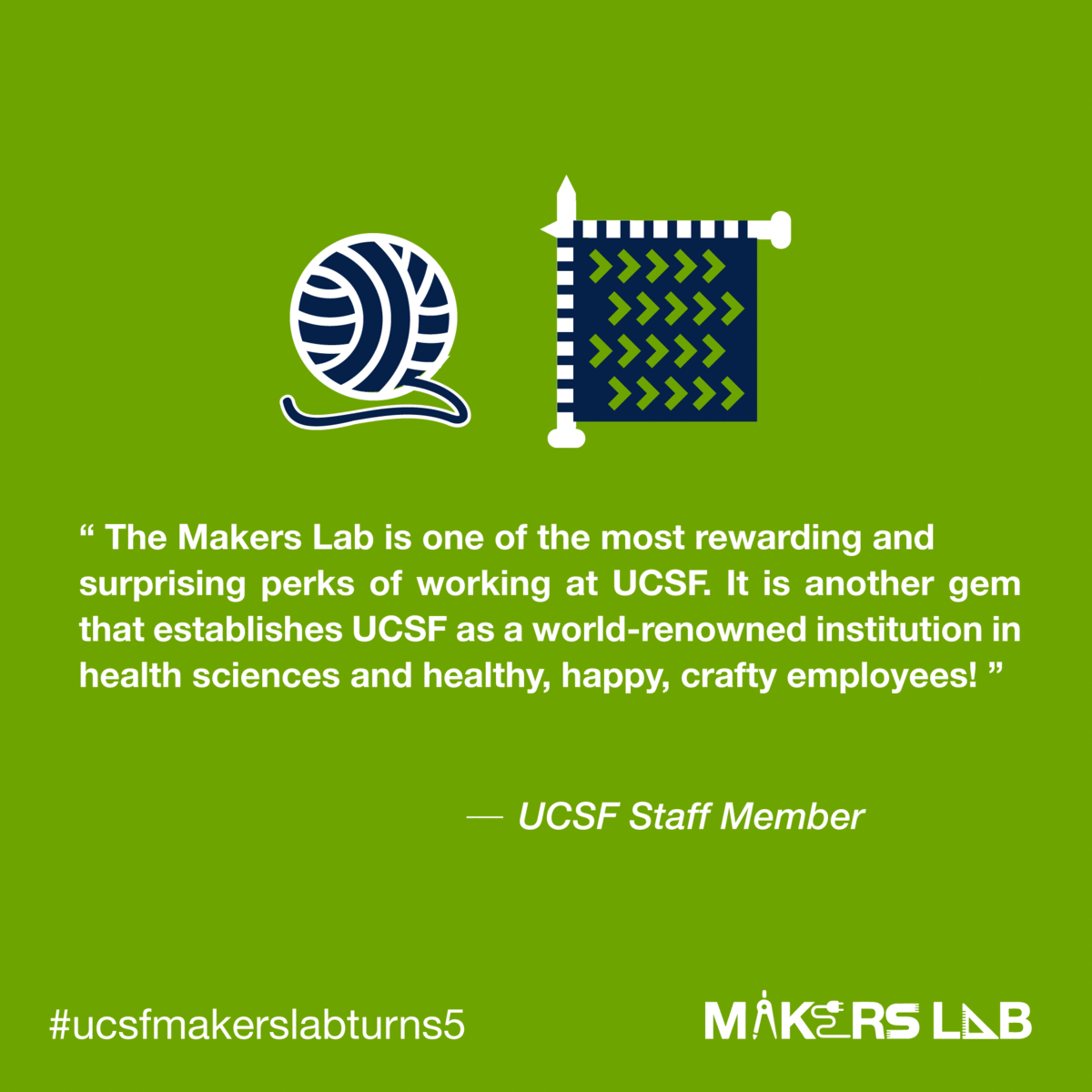 The Makers Lab is one of the most rewarding and surprising perks of working at UCSF. It is another gem that establishes UCSF as a world-renowned institution in the health sciences and healthy, happy, crafty employees!

Lettie McGuire
UCSF Staff Member
The 3D printed hip bones were particularly difficult for me to learn. They are so three-dimensional that even with anatomy lab and computer anatomy software, I didn't feel like I had a great grasp on where all of the bony structures were. Now with these new prints, I can learn them more in depth and continuously review it.

Cecilia Im
Medical Student, UCSF School of Medicine
Whenever in a new place I tend to look for the Library. It's like finding an anchor to keep myself stably afloat during the transition…Makers Lab, I think, has helped evolve the concept of library by inclusion of a creative corner and given it a futuristic outlook.

Priti Roy
Member, UCSF Department of Ophthalmology
Thank you to all of our UCSF makers for sharing their testimonials and making this possible!
Though the anniversary campaign is over, you can continue to share your experiences in making by tagging us with #ucsfmakerslabturns5 on either Twitter or Instagram.
Here's to another five years, and we hope see you all in-person for our 10th anniversary!