The CLE was updated to Moodle 3.7 on January 2, 2020. Here is a quick preview of the new and updated features.
Toggle Fullscreen
This new feature adds a small button at the upper right of the center content area on all course pages. Clicking it causes any right-side blocks to essentially disappear, and the center content area to expand into the space occupied by the blocks. Clicking the button again brings the blocks back. Being able to temporarily hide the blocks and have the main content area use all available screen real estate might be especially useful on smaller screens.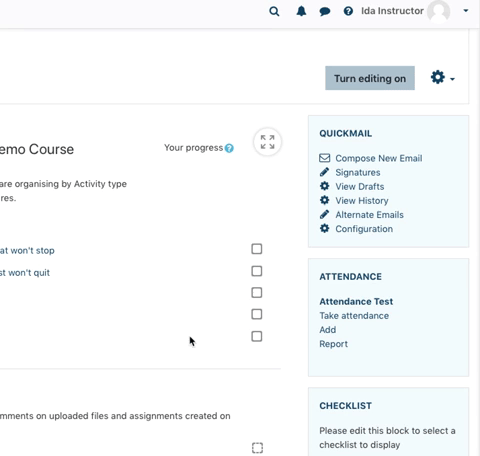 Forum enhancements
The forum activity gets a number of enhancements:
Streamlined forum replies
Star discussions, so they appear at the top of your list
Sort discussions
Lock discussions (for course managers, instructors)
Reply privately (for course managers, instructors)
Improved messaging interface
Messaging improvements include:
New full page messaging interface
Ability to mute conversations
Private messaging space (for personal notes, links, reminders)
More enhancements
Clear My Choice — quiz takers who change their minds can remove their choices from multiple choice quiz questions
Rotate submitted PDFs — graders can change the orientation of submitted assignments for easier grading
Book enhancements

Print books and chapters in a more attractive format
View hidden chapters — course managers, instructors can now view hidden chapters with the editing turned off

Asynchronous course backups/restores — these now take place in the background, so course managers and instructors don't need to wait for backups/restores to complete. A notification will be sent when the backup/restore has been completed.
Additional information
For a full list of updated features, please refer to the "new features in 3.7" page on the Moodle website. Please note that some of the Moodle 3.7 features do not apply to our implementation.