In early 2018, the Makers Lab partnered with the UCSF Department of Anatomy to develop the Anatomy 170.10 elective. The goal of the elective is to introduce UCSF students to the basics of 3D printing and the workflow for generating a 3D printed anatomical model from a CT scan. Students develop hands-on experience with the hardware and software to empower them to use the technology in their education, practice, and research. Derek Harmon, MS, PhD is the course faculty and lead, and Makers Lab staff provides the 3D printing technology and in-class training and support.
Below are the objectives for the quarter-long elective:
Explain the fundamentals of 3D printing technology and how it can be applied to create three-dimensional anatomical models for pre-operative surgical planning, health science education, and research.
Demonstrate the ability to accurately segment a portion of tissue from a given DICOM data set to be used for 3D rendering. Given a DICOM data set (CT scan), students will demonstrate the ability to segment a single bone and create a 3D rendering from the segmentation.
Understand the process of cleaning and exporting a rendered 3D model. Using 3D modeling software, students will employ best practices for cleaning up and exporting a 3D model.
Describe the three different types of 3D printing technologies as well as the benefits and disadvantages of each. Given a 3D model file, students will be able to prepare the model for print using three different types of 3D printing technologies (traditional FDM, FDM with modification, SLA).
Describe post-processing techniques to successfully complete a 3D model. After completing a 3D print, students will be able to apply 3-5 post-processing techniques to successfully finish the 3D model.
Students attend weekly in-person working sessions that include an introduction to 3D printing, InVesalius, Blender, Meshmixer, and Cura. The core of the elective is a self-directed course reader that students work through at their own pace as they segment CT scans, post-process, and 3D print. UCSF School of Medicine student, Cecilia Im, developed the course reader as part of the Summer 2018 Curriculum Ambassadors program.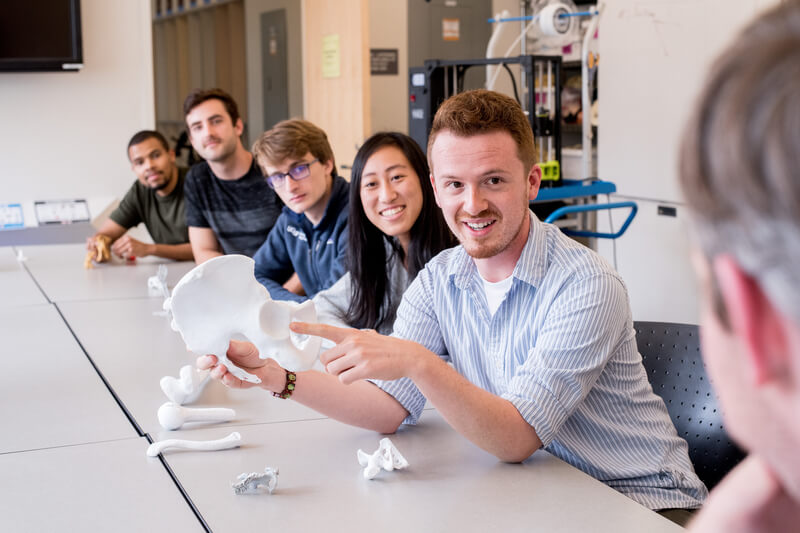 Below is a testimonial from Dr. Harmon on the 3D Printing elective:

"The 3D printing elective has been an idea that Dylan and I wanted to develop for quite a while. We knew that students would be interested in learning about 3D printing basics and I knew that it would also be a great way to reiterate musculoskeletal anatomy. The students have blown us away with their excitement for the content in the elective and the projects that some of them are working on beyond the course. We hope to continually improve the elective and are currently working to develop a more advanced program that can pair students with clinicians and researchers to develop 3D printing related projects."
As part of the elective, students also attend lectures lead by guest presenters who are actively using 3D printing in their research and patient care at UCSF. We have been fortunate to have the following UCSF community members present to Physical Therapy students in the Fall 2018 quarter and to School of Medicine students in the Spring 2019 quarter:
Roberto Rodriguez Rubio, MD Assistant Professor, Department of Neurosurgery and OHNS, Director, Skull Base & Cerebrovascular Laboratory
Tatiana Kelil, MD Assistant Professor, Clinical Radiology
Eric Lam, PhD Assistant Professor, Biochemistry and Biophysics and Director of KAVLI-PBBR Fabrication and Design Center
Alexis Dang, MD Associate Professor, Orthopaedic Surgery
Kjeld Aamodt, DDS, MS Assistant Clinical Professor, Orofacial Sciences
Shafkat Anwar, MD Associate Professor of Pediatrics and Radiology,
Pediatric Cardiology Director Cardiac MRI, Co-Director Center for Advanced 3D+ Technologies
The Makers Lab is proud to support the integration of 3D visualization and 3D printing in the UCSF curriculum to prepare tomorrow's researchers and clinicians to address challenges in the health sciences. After completing the elective, we expect students will continue to use the technology to enhance their education while at UCSF and go on to identify applications for their research and clinical care.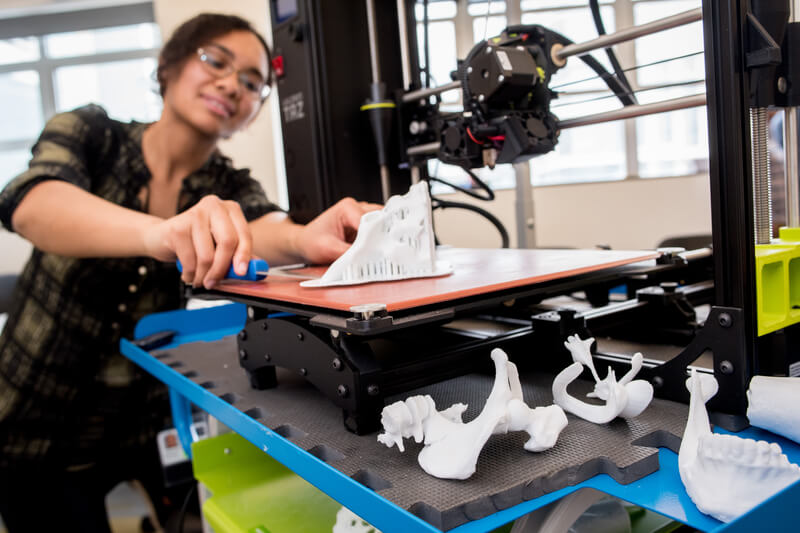 Special thanks to the course TA David Wu, MD-PhD Candidate in the Medical Scientist Training Program; Barbie Klein, PhD Assistant Professor, Department of Anatomy; Stacey Yu, Anatomy Lab Manager; Makers Lab staff; and all of the guest speakers.