This summer, The Learning Tech Group hosted the inaugural Teaching and Learning Symposium: Exploring the Changing Paradigm of Education. This collaborative effort brought together education experts and members of the Teaching Innovations Work Group to present on topics relevant to UCSF faculty and related to the ever-changing landscape of education. Each of the eight presentations were packed with rich discussions, best practices, and learning opportunities. Attendees included a mix of faculty and staff from our academic programs and community.
Trends and Thinking Forward
The Symposium began with a presentation by Dr. Maggie Beers, the inaugural Associate Chief Information Officer for Education. She gave insight into transformative trends impacting the educational technology ecosystem. Dr. Beers described her goal to provide UCSF educational programs with an optimal educational technology environment. It is her intent that programs meet accreditation requirements, evolve and innovate pedagogy, delight UCSF students by facilitating quality learning, and give all users intuitive and streamlined experiences. She focused on redefining the education technology ecosystem to include the human experience. In addition, she noted the need for enabling the strengths of 21st century educators. This includes actions that promote advocacy for justice, equity, inclusion and diversity.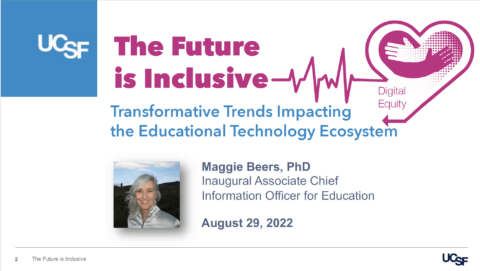 We then moved on to sessions that focused on fostering inclusion in the classroom. Presentations varied on topics such as incorporating DEI in course design, creating accessible learning environments, and how the brain learns. Attendees had the opportunity to engage with their peers in breakout rooms to discuss DEI topics. They also received practical tips for accessibility via Zoom and in their syllabi, and learned about different modalities through storytelling and examples.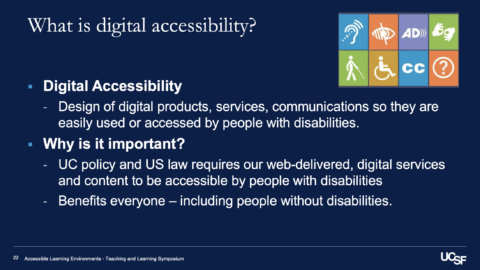 Education Technology
The second half of the Symposium focused on education technology with topics on video creation, classroom technology, and tools available on the CLE. A panel of video experts shared invaluable tips and resources on improving the sound and quality of videos. Attendees enjoyed watching instructional designers move through the CLE while sharing step-by-step instructions on creating interactive videos. We ended the Symposium with a live in-room demonstration of classroom technology features which gave attendees the opportunity to see how classroom panels work and ask questions about their various functions.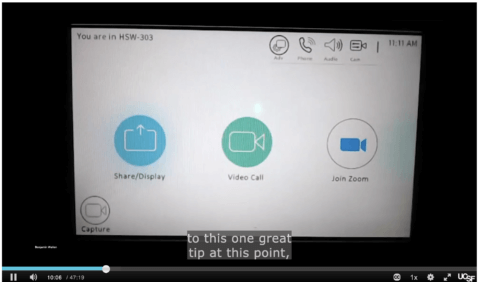 Our inaugural Teaching and Learning Symposium provided the UCSF academic community with opportunities to build expertise and share best practices. We look forward to collaborating with educators to steward rich student learning experiences. On behalf of the Learning Tech Group and the entire Teaching Innovations Work Group, we are very proud of what we have accomplished in partnership with attendees. We are already looking forward to the Symposium in 2023!
Did you miss the 2022 Symposium? You can access presentations recordings and materials via the Teaching and Learning Symposium Resource site.
Have questions? Schedule a consultation with an instructional designer or contact the Learning Tech Group for more information!